Hands pressed together, palm to palm, with a generous smile on face, Nepali people, you hear, say, "Namaste". The very typical Nepali way of greeting, Namaste is the word I have heard most of the time since I landed in Kathmandu.
It sounded unique to me when I later came to know its beautiful meaning: I bow to the divine in you. To a foreigner, that message endows the word with such a sense of holiness and awe that whenever I'm saying Namaste, it evokes in me a feeling of sublimity and devoutness as if I'm really paying respect to the little god hiding in human flesh, simply by a simple greeting! In China, it takes far more rituals for people to pray to the divine in temples.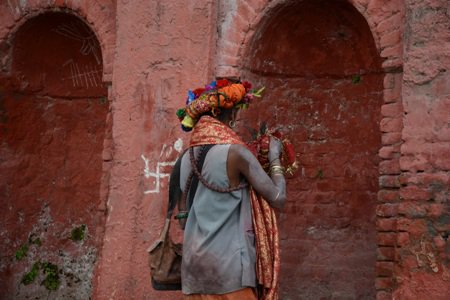 And temples, usually built in large scales, are always distant and quiet places that draw clear lines between the busy city life. Yet here, in Nepal, lines between religion and secular life are blurred that even a daily casual greeting could be deemed as sacred as a religious ritual. Tributes like flowers and milk placed on the wet and muddy grounds in Thamel, food stalls and groceries opened under the wooden verandas with delicately carved divinities pattern on Asan Tole, natives lazily sleeping on the steps of the many historic temples on Durbar Square—these views always amaze me because I've never seen religion—distant, mighty and mystic in China—could be so down-to-earth. Either Hinduism or Buddhism, it harmoniously blends into civil life and roots as an inseparable part. Every time I'm wandering on the countless mazy lanes and ready to bump into some Hindu or Buddhist temples, I will always think of the thousands of gods. They are not far away; they are scattered at every corner of the city; they are just living among humans, here in Nepal.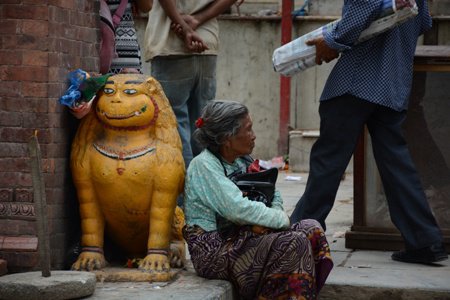 Religion is not the only thing that appears so earthy and unpretentious here, but Kathmandu, the city as a whole, fascinates people for its generous candor. It's been ready to unfold everything the moment you shed your glance on the city. On one hand, you can completely immerse yourself into its rich heritages of religion and history, spending days lingering around temples, savoring the smell mixed with incense, rain and mud and learning about an exotic culture. On the other hand, however, you can't avoid touching on the city's wounds: poverty and reconstruction problems caused by the destructive earthquake in 2015, existing discrimination on women, severely polluted air, extremely chaotic and annoying traffic, and other poor basic infrastructure due to the lasting political instability of this country. The colorful and luxuriant Thangka that dominates your sight above cannot appease the discomfort of walking on bumpy and dusty roads where several honking motorbikes suddenly flee by your side. The city of which main industry is tourism is under full exposure. A tourist's camera captures both its cultural and religious richness and its lagging development.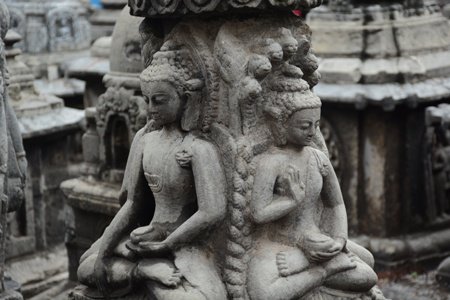 Sometimes it takes great tolerance to live within these extremes, and this is the reason why I respect Nepali people—they have the ability to balance all the fortunes and misfortunes, so strong that you barely see them complain about anything. I happened to know Sunni, a local shoemaker, who invited me to his home to meet his family and have tea after we had a short pleasant conversation at a temple where he gave me a Tika. Parents dead in the earthquake and four daughters to raise, he now lives in a small and shabby house which the government built for compensation. But he stopped me when I was just about to say sorry, and told me he was quite satisfied and happy now, with the generous smile that you can tell genuine.
 Later I've met many other Nepalis. They are different in many ways, but similar in that they are all resilient. They seem to be born with such positive attitude, open to embrace diversity, even in religion. My host family told me that although they are Hindus, they practice Buddhism as well, and many temples in Kathmandu are holding statues of more than three religions—I could imagine those happy faces with forehead in red Tika coming in and out of the temples, praying and singing. Nepali people are just as honest as their country, with no intention to hide, and almost at haste to offer.
 And one evening, as I was sitting on the rooftop, watching the sky glow in pink, the city slowly got enveloped under a faint shade. The town dimmed, crowded with countless dense houses. I heard various sounds: cars honking, wind blowing, dogs barking, women cooking, kids laughing, men talking. Then all these sounds were woven together like lyrics and sent to my ears via the wind. Noisy, yet strangely quiet at the same time. There I came to understand the magic of Kathmandu city—the great compatibility with extremes and contradictions, the bustling, a lively and chaotic life that drags you to think of the very nature of life. There, bathing in the joy of grasping that serenity of myself with the sunset gleam, I recalled Tagore's poem that echoed in my head:

"I asked nothing, only stood at the edge of the wood behind the tree.
Languor was still upon the eyes of the dawn, and the dew in the air.
The lazy smell of the damp grass hung in the thin mist above the earth.
Under the banyan tree, you were milking the cow with your hands, tender and fresh as butter.
And I was standing still.
I did not come near you.
The sky woke with the sound of the gong at the temple.
The dust was raised in the road from the hoofs of the driven cattle.
With the gurgling pitchers at their hips, women came from the river.
Your bracelets were jingling, and foam brimming over the jar.
The morning wore on and I did not come near you."
(Fan Chen, currently pursuing journalism and politics at New York University). She can be reached at cf_phoeniee@hotmail.com