The EU organised with support of the Samarpan Academy on 6 July 2017 together with the Ministry of Education a dedicated information session for Higher Education Institutions.
Students from Nepal about the Erasmus+ program and on 7 July jointly with the Erasmus Mundus Association welcomed and briefed the new 28 Erasmus scholars from Nepal for the academic year 2017 at the EU Delegation.
 Erasmus is the EU's highly competitive flagship initiative to support with generous grants higher education, training and research opportunities in Europe. It is also open to international students, professors and academic staff as well as higher education institutions from third countries.
 According to a press release European Union Delegation, from an overall budget of EUR 14.7 billion for 2014-2020, EUR 1.7 billion are exclusively dedicated to students and higher education institutions from third countries.  In 2017 this program celebrates its 30th birthday.
 Ralf Rahders, Head of Unit for International Capacity Building from the EU's Education Executive Agency provided insights about the Erasmus+ Program followed by an intense Q&A session with well over 100 students and Nepal's major higher education institutions. "The EU is keen to expand Erasmus cooperation with Asia." Rahders said. Head of Cooperation at the EU Delegation, Andreas Roettger, wished the new Erasmus scholars from Nepal the best of success and added, "I hope to see in the future many more Nepalese students succeeding with Erasmus+ in their aspirations to study in Europe, and also European students coming to Nepal, as well as an expanding cooperation between Higher Education Institutions from Nepal and the EU. This can importantly contribute to Nepal's development and enhance mutual understanding & cultural exchanges".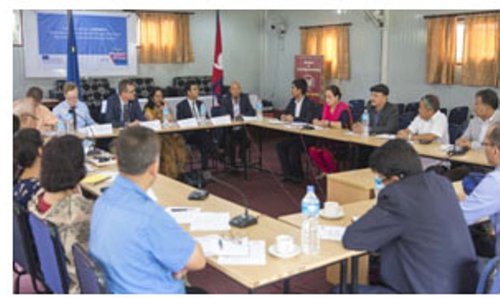 In the meantime Dr Ram Thapaliya, Chairperson, Samarpan Academy (Institute of Crisis Management Studies) stressed: "Economic needs and lack of opportunities in the country often keep Nepalese students abroad after the studies. Schemes like Erasmus can redress that so as to more quickly directly contribute to the development of Nepal 
"Addressing the programme, Chief Guest Prof. Dr. Sudha Tripathi, Rector, Tribhuvan University said, "Erasmus is a remarkably proven system for sharing ideas and hospitality between culture and countries along with education and wide range of opportunities". She also highlighted that the European Union has been constant and reliable friend to Nepal in times of need.
 Representatives of the Erasmus Mundus Association of Nepal also shared their experiences and provided useful tips on the Erasmus + Program.