Nepal Investment Bank Ltd. (NIBL) and Ace Development Bank will begin the joint transactions in a name of Nepal Investment Bank Ltd. Following the completion of acquisition process, both the bank started a joint transaction formally.
NIBL acquire Ace Bank on swap with 100 shares of Ace equal to 41 NIBL. Following this paid capital of NIBL reaches 9.24 billion now. After this merger, NIBL is first commercial bank to have largest paid up capital.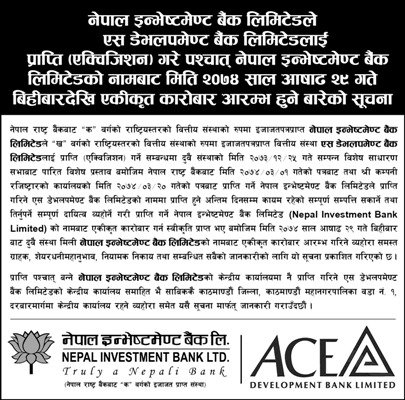 Even after merger of Ace into NIBIL, board of director and Chief Executive Officer remains same and central office is also in same place in Durbarmarg. After this acquisition, promoters share reached to 69 percent and 31 percent share by public.
Total saving of the bank reaches not 124 billion and loan 107 billion. After the merger 12 branches of Ace bank and extension counters are added to NIBL reaching 61 branches and 4 extension counters.
According to a press release, NIBL will expand its service further following merger with Ace. In its three decades of service, NIBL received bank of the year award five times.