The Embassy of Nepal in Yangon organized the Nepal Tourism Promotion Event-2017 on 7th July at Kandawgyi palace hotel in Yangon
. The theme of the event was 'Naturally Nepal and Lumbini First'.
Former Prime Minister of Nepal Madhav Kumar Nepal was the special guest and Col. Aung Soe Moe, Minister of Security and Border Affairs of Yangon and Permanent Secretary of the Ministry of Tourism and Hotels were the Guest of Honors.
According to a press release issued by Ministry of Foreign Affairs, welcoming the guests, Bhim K. Udas, ambassador of Nepal to Myanmar, said that though the bilateral relations between Nepal and Myanmar established in 1960 (57 years ago), the two nations were connected religiously, culturally and people-to-people level for centuries.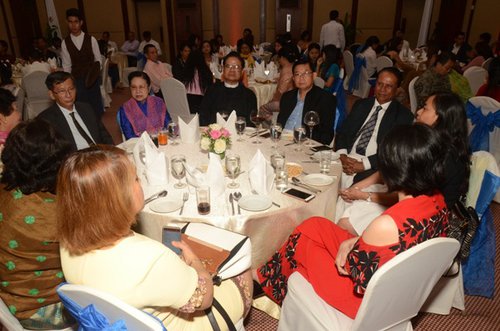 While the Gurkhas of Nepal fought for the independence of this country during the Second World War, Myanmar (then Burma) assisted Nepal in its fight for democracy in 1950. The son of this soil, U Thant as Secretary-General of the UN, helped international ailing the birth place of Lord Buddha and developing the Lumbini circuit after his visit in'J.967.For tourism promotion, we say Naturally Nepal.
 In fact, it is spiritual, historical with many archaeological and world heritage sites and above all it has people with smile Highlighting the beauty and importance of tourist destinations  Ek Nath Dhakal, former Minister of Nepal, appealed the guests to visit Lumbini as well as other places of Nepal,.
Special Guest Madhav Kumar Nepal thanked all the guests and requested them to visit Lumbini once in life time being the Buddhists. Further he said that the tourists from Myanmar can help promoting tourism and strengthening bilateral and people-to-people relations between the two countries
 Altogether bout 220 guests mainly, tour operators, journalists, senior government officials were present