MOU been signed on the establishment of Bilateral consultation Mechanism Between the Department of Foreign Affairs and Trade of the Government of Australia and Ministry of Foreign Affairs of the Government of Nepal .
According to the Embassy of Nepal in Australia, Foreign Secretary Shanker Das Bairagi and Acting Foreign Secretary of Australia Gary Quinlan signed the MoU amid a function today.
On the occasion, Secretary Bairagi had briefed the Australian side on the current socio-political and economic condition of Nepal and the recently concluded first and second phase of civic polls.
Bairagi also informed the Australian side that women and people from ethnic and other marginal groups were elected to various local level posts. He further urged Australian entrepreneurs to invest in Nepal.
Likewise, Acting Foreign Secretary Quinlan said Australia was positive about increasing the volume of its trade and investment in Nepal. He also raised queries regarding post-quake reconstruction in Nepal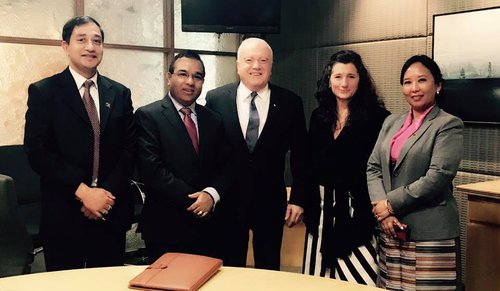 "This is a Proud and progressive moment for Nepal. Nepal and Australia diplomatic relationship is gaining new heights," writes Foreign Secretary Bairagi in his face book.