President of Republic of Korea Moon Jae-in expressed his willingness to visit Nepal. Recalling his previous visit, President o Republic of Korea Moon Jae-in showed concern over the progress made in reconstruction and conveyed that he participated in the rehabilitation in Nuwakot district during his visit to Nepal in 2016.
Underscoring the existing warm and friendly relations between the two countries, President Moon Jae-in also stated that Republic of Korea will continue to support Nepal in its development endeavors as Nepal is an important ODA partner of Republic of Korea.
Receiving the Letter of Credence of Nepalese ambassador to Republic of Korea Arjun Jung Bahadur Singh, President Moon Jai-in expressed his happiness in increasing trends of Korean investment in Nepal.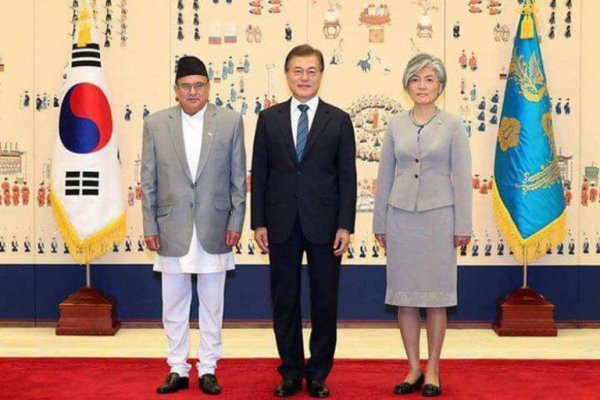 Thanking the support of Republic of Korea in reconstruction and overall development of Nepal, Nepalese ambassador to Republic of Korea Singh said that Nepalese government and Nepalese people are very much willing to welcome president of Republic of Korea at the earliest possible time mutually convenient.
According to a press release issued by Ministry of Foreign Affairs, Nepalese Ambassador Singh presented Letter of Credence to President of Republic of Korea amid a special official ceremony held at Presidential Palace in Seoul.