Co-Chari of BP Ideology National Society Govinda Raj Joshi said that Nepali Congress can revive its glory only the championing the BP Koirala's thought including his national reconciliation.
Address A program organized by BP Ideology National Society on the occasion of the 35th death anniversary of party veteran leader and first people's elected Prime Minister of Nepal, Bishweshwor Prasad Koirala, NC leader Joshi also warned the present party leadership that NC will demolish if it fails to stand on democracy and nationalism.
Underlining the need for unity among leaders to address the problems facing the county, chief guest and chairman of the Society  K.B Gurung said that Nepali Congress has no option other than to follow BP Koirala's ideology.
Former speaker of House of Representative and NC leader Tara Nath Ranabhat said the BP's reconciliation policy was equally relevant today, calling on the party's topmost leadership to further strengthen the party which according to him has been marginalized currently.
NC leader former minister Laxman Prasad Ghimire criticized the current leaders of party aligning with Maoist extremists ignoring BP Koirala.
Dean of Kathmandu University Law Faculty and constitutional lawyer Dr.Bipin Adhikary said BP is a 'rare leaders' in the world who had the capacity to lead the revolution and to rule as well party and government.He was of the view of making the country self-sufficient.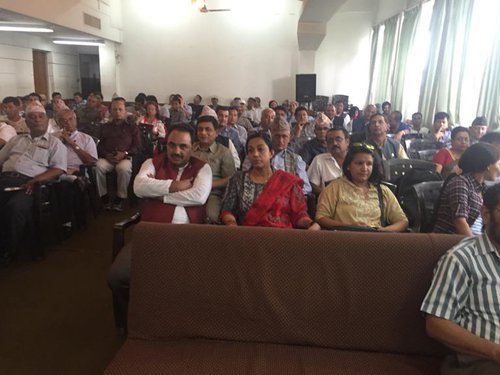 Constitutional lawyer Bhimarjun Acharya said that BP Koirala has never compromised the ideal of democracy. He blamed the current leadership for betraying the ideal of BP.
NC youth leader Lokesh Dhakal said that NC will lose its utility if it fails to pursue BP Koirala's ideology.
Chaired by BP Ideology National Society Kathmandu District, a member of parliament Dhyan Govinda Ranjit and treasurer Geeta Regmi also highlighted BP Koirala's contribution.