At a time when political leaders are harping the economic progress as their agenda, the Confederation of Nepalese Industries (CNI) held its 14th Annual General Meeting (AGM) expressing its full support the government in this direction.
Inaugurated by Prime Minister Sher Bahadur Deuba amid a function attended by former Prime Minister and the chairperson of CPN-UML K P Sharma Oli and former Prime Minister and chairperson of CPN (Maoist Center) Pushpa Kamal Dahal, President Emeritus and industrialist Binod Kumar Chaudhary expressed happiness to see leaders of three parties in a same forum to discuss economic agenda.
Reminding the struggles of the private sector, Chaudhary, the founding president of CNI, requested the leaders of the three political parties to brainstorm on ways to make the seven provinces as investment-friendly" "The political parties should move forward jointly by putting development and economic prosperity high in their agenda","
"This is a very encouraging sign for us to see top three leaders in the same dais to talk the economic progress and economic agenda of Nepal," said industrialist Chaudhary who reminded unprecedented level of economic progress of 1994 when he was president FNCCI.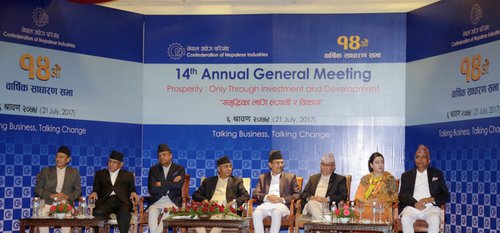 Speaking at the program, CNI President Haribhakta Sharma said that country's private sector has seen many ups and downs in the past few years" "Now, it is the role of the government to create an investment-friendly environment in the country so that the industrial sector can flourish", said Sharma. "The local level election has conveyed a positive message for the industrial sector. We, the private sector, are ready to make fresh investments in order to create employment and give a boost to the country's economy"."
Sharma also requested the government to widen tax net and keep tax rates unchanged""Laws and regulations which are hindering the growth of the industrial sector should be amended.
Bhawani Rana, president of the Federation of Nepalese Chambers of Commerce and Industry (FNCCI), said that it is the high time all the stakeholders put the focus on economic prosperity. "Nepal holds huge potentialities in agro, energy, tourism, and herbal medicines sector. We must exploit the potential to the fullest for economic prosperity"," said Rana.
Prime Minister Sher Bahadur Deuba, main opposition party CPN-UML leader K.P. Sharma Oli and Maoist Center leader Pushpa Kamal Dahal expressed their strong commitment to supporting private sector.