Although Nepal Army and British Army has always minatainted two centuries old tradtional reltaions freindlly, there are certain hicups in the past few years. Followign the recent visit of COAS General Chhetri, the traditional relations comes to at normal stage as in the past.
With an offical intiviation of Chief of Genral Staff Geneal of Unied Kuingdom Sir Nicholas Partick Carter, COAS General Chhetri visited United Kingdom from August 10-15.
Nepal and British Army maintain cooridial and freindly relations all the time and British Army always provided necessary support at the time of disasters or any difficult time. Despite sending necessary helicopters to carryout rescue mission, British Army's helicopters did not recieve permission to come to Nepal during the great earthquake.
As Colonel of Nepal Army Kumar Lama was arrested in the London in the case related to conflict period, Nepalese Army took the incident as unusal and against the traditional freindship between the two countries.
However, the recent official visit of COAS General Chhetri to United Kingdom helped to bring the rleations back in track. With COAS General Chhetri's series of meeting with his counterparts and senior Army offiicals, there return the warmeth relations betwen two armies.
Durimg his visit COAS General Chhetri paid a coutesy call to General Sir Nicholas Patrick Carter, Lieutenant General  and Colonel Commandant of British Gurkhas  Nicholas Pop separately. COAS General Chhetri also paid a courtesy call to Air Chief Marshal of British Army.
COAS General Chhetri was informed the modernization in British Army and bilateral relations between Nepal and United Kingdom. He also inspected 19 Regiment Royal Artillery of British Army and attended the Dinner hosted by Nepalese Embassy in London.
"COAS General Chhetri's recent visit to United Kingdom helped to further strengthen two hundred old existing historical and friendly relations between Nepal and United Kingdom," said Nepal Army in its press release.
COAS Geneal Chhetri  visited England follwign participation in Chiefs of Defence Conference ofTroops Contributing Countries-TCC  in New York. As a fifth largest contributing Army to UN Peacekeeping, COAS visit has its own significant. During his visit to UN Headquater, COAS General Chhetri engaged in series of metting with high rankig UN Officials and COAS General Chhetri persuaded Npeal's case as Nepal is aiming to increase the numbers of Peacekeepers in UN.
As an oldest organisations of Nepal, Nepal Army has a role to play. Given its prestige and expertise in peacekeeping, Nepal Army can support to promote and protect Nepal's interest. Given the growing clout of military diplomacy, Nepal Army has been pursuing its role to safeguard and strengthen Nepal's image in the global order. The recent visit of COAS General Chhetri has proved it again.
 "My Visit To United Kingdom Was Successful"
(CoAS) General Rajendra Chhetri
In his recent visit to United Kingdom, Chief of Army Staff (CoAS) General Rajendra Chhetri spoke to BBC Nepali service. Excerpts: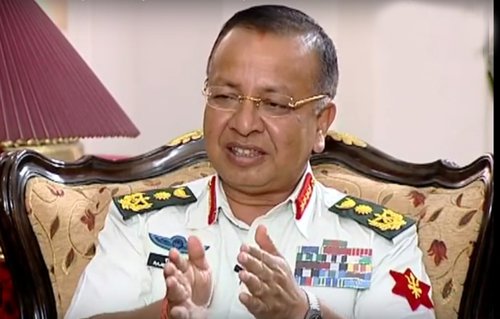 How do you see your recent visit to United Kingdom?
My visit to United Kingdom was successful and the visit paves the way to further strengthen the existing relations between Nepal and United Kingdom. Our two armies have more than two centuries old relations and it remains cordial and strong. We discussed on the issue of the British Army's previous military support. We also discussed on the continuation of training provided by British Army to Nepali Army. Some British Army personal came for training in Nepal in the past. We wish that needs to continue. British Army supported in the past providing training to enhance capacity of Nepal Army. We also talked on the issue.
After the arrest of Nepal Army's Colonel Kumar Lama and three British Helicopter returned from Nepal, there reportedly deteriorated. Is this visit normalizing the relations?
So far as Colonel Lama Episode is concerned, it is close to end. Of course, there was uneasiness for us. We do believe that there is no role of British Army in the episode. There was certainly a misunderstanding on the issue of Chinook Helicopter of British Army during the earthquake. We wish such misunderstanding should be repeated. I do believe that this kind of high level visit will definite to help to address misunderstandings.