Nepal will hold International Conference on Water Environment and Climate Change: Knowing Sharing Partnership on April 10-12 2018. Announcing the conference, conference chair and chairman of Society of Public Health Engineers, Nepal (SOPHEN) said this conference will provide Nepalese a good opportunity to show their own achievements on water and sanitation and WASH Sector to international Community.
"We expect that many world renowned experts on water and WASH sector will participate," said Sha. He also announced some prominent figures who have already agreed to come to Nepal to take part in the conference.
Organized jointly by Department of Water Supply and Sewerage (DWSS), Society of Public Health Engineers Nepal (SOPHEN) and Nepal Engineer Association, the aim of conference is to bring together professionals, academicians, researchers, entrepreneurs, government and non-governmental institution to discuss and deliberate on challenges, opportunities and strategic involved for water and environment issues.
The conference will provide a global forum to academia; researchers and practicing manager to discuss critical issues concerning environment and sustainable water resources management." Our program is dedicated to the recent developments in water resources and environmental management including impacts of climate change," said Sha delivering vote of thanking in conference announcement ceremony.
"As Nepal have enormous good lesions to share with global community. This conference will provide us all needed exposure," said former minister Ganesh Shah who is one of the key figures supporting to hold the conference. "This is the program own by government and backed by professional organizations and academia of Nepal."
Chairman Sha, Director General of Department of Water Supply and Sewerage Tejraj Bhatt, NEA president Hare Ram Shrestha and Bindu Nath Lohani Chief Advisor and International advisory group call for the participations.
Opening the program, former secretary Suman Sharma highlighted the important of the program saying that Nepal is in the crucial period of transition towards SDGs, this international conference will provide our engineers and policy makers to learn the experiences from international experts.
President of Nepal Engineering Association, Hare Ram Shrestha said the conference is intended to become a meaningful platform, where leading engineers and professionals in the field of water, environment and climate change will discuss their experiences and achievements.
Former chair of the SOPHEN Kishore Shakya said that the international conference will not only enhance SOPHEN but also it will also be a great opportunity for all of us.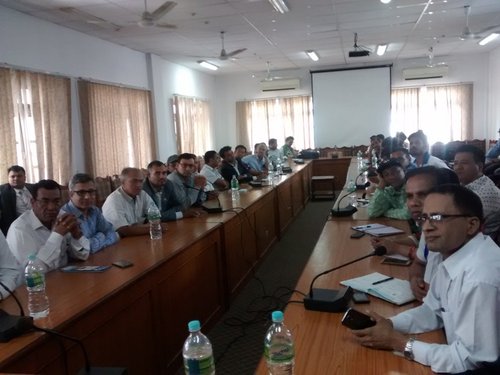 Deputy Director General of DWSS Sunil Das expressed that the department will provide all necessary support to successfully holding the international conference. "We will provide organizers all necessary support to make the conference successful.
The organizer calls for the paper on water laws, policies, regulations, role of local government in WASh sector, integrated water resources management, technology and innovations in water management, smart water management, institutional capacity building, strategic water management for sustainable development goals, technological trends in waste water management, renewable energies and other.
The organizer has already set up scientific committee as former secretary Suman Prasad Sharma as technical advisor and Chandika Prasad Bhatta NEA as coordinator. Members include Dr. Sanna Leena Rautanen RWSSP,Dr. Nawaraj Khatiwada, KU, Dr. Subodh Sharma KU, Dr. Rajendra Prasad Adhikari, Dr. Dinesh Manandhar KU, Dr. Mahesh Bhattarai SOPHEN, Dr. Udhav Raj Khadka, TU, Dr. Bhupendra Devkota, Dr. Sudan Raj Panthi, WHO, Dr. Pool Prasad Chapagain, KUKL and Ramakant Duwadi, MWSDB.
The committee also announces abstract submission date on October 31, 2017, Notification of acceptance Nov 30, 2017, Manuscript submission Jan 1, 2018, Registration of Participants Feb 28, 2018 and notification of programs and events schedule on April 02, 2018