Ambassador of the Republic of Korea to Nepal Park Youngsik said that classical music performance by members of the Korea music groups helps to understand the classical music in Nepal.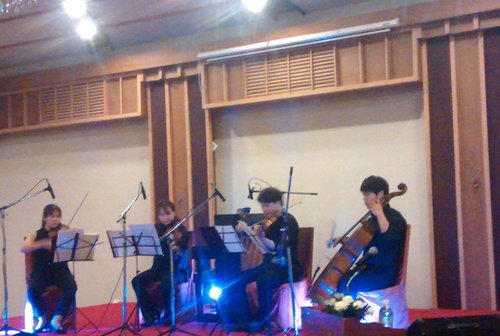 Opening the Chamber Ensemble in Kathmandu, a classical music performance by performers from the Republic of Korea, Ambassador Youngsik said that this will enhance the bilateral relations between the two countries.
Organized by Embassy of the Republic of Korea, former ministers, leaders of the political parties, CoAS Nepal Army General Rajendra Chhetri, senior army officers, Kathmandu based head of diplomatic missions, Korean citizens, music lovers and others attended the concert.
Anchored by Sukyong 'James' Jee piano/ music director, Korean young musicians presented various classic music to the audiences. The principle of 1st violin for the Seoul Philharmonic Orchestra Jiyun Han played the violin in the program.
Along with anchoring the program, Jee also played a crucial role handling the Piano. Five young musicians from Korea National University of Arts Chanmi Shin (voice), Jin Choi (violin), Seunghyun Kang (violin), Keunyup Lee (cello) and Sungwoo Chung (viola) depicted their skills in their instruments performing the classic music.
The artists performed various classic music of the different period. "I hope this concert encourage high-quality music education and music exchange between the Korea and Nepal," said Hyunmin Lee, director of Music Education of Nepal.
 See in Video: