Chaudhary Group (CG) has been conferred the title of Asia's Best Employer Award 2017 at a function held on 1st August 2017 at Le Meridian, Singapore. The award is in its 8th edition and is organized yearly by World HRD Congress & Employer Branding Institute and recognizes all HR related activities that organizations carry out as part of their operations. CG has been recognized in areas of "Talent Management Strategy", "HR Strategy in line with business" & "Most sought after brand for young millennial generation".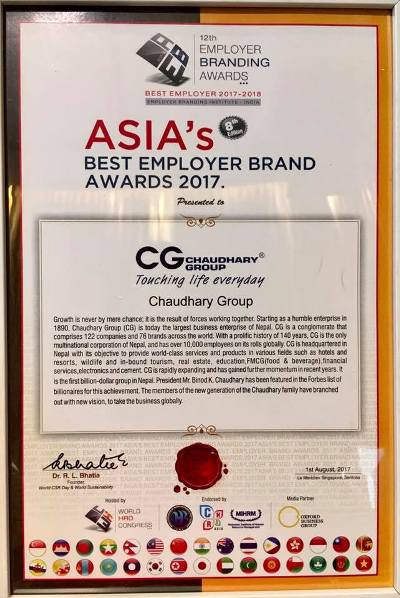 "It's a privilege to be acknowledged for the efforts that the company has been carrying out" said Nirvana Chaudhary, MD, Chaudhary Group. "We always have believed in our people being our biggest asset and this award is recognition for that" added Chaudhary.
According to a press release issued by Chaudhary Group, other winners of this award include Microsoft, Siemens, Panasonic, TCL, Huawei, Hutchinson Telecommunications, Volkswagen, Malaysia Airlines, Holiday Inn, Nokia, HTC, Thai Airways, Unilever Asia, Qantas, McDonald's, Petronas, Pfizer, UPS, Marina Bay Sands, Mastercard, Rolls Royce , Kellogs, PepsiCo.