NIBL Capital Markets Ltd., a subsidiary of Nepal Investment Bank Limited, has recently completed its 5th year of operation. During this period, it has grown from a start-up investment firm to one of the biggest players in the Nepalese capital market.
Under the leadership of young and energetic CEO Shivanth B Pande, NIBL Capital has achieved numerous milestones on its five-year journey, being the first amongst its peers to cross 1,00,000 Demat Accounts.
Similarly, the RTA/RTS department has also played a significant role in the overall growth of the company. Over the period of two years, NIBL Capital was able to increase its client base by three folds. Currently, NIBL capital is the share registrar for 30 companies, serving over 5,72,600 shareholders.  To make life easier for its clients and their shareholders, the company has updated its website through which the eligibility for rights issue can be easily checked online.
The issue management department has also achieved numerous milestones over the last five years. The first ever issue managed by the company was the IPO of Mega Bank Ltd in the year 2070. Since then, NIBL Capital has been involved in a total of 28 issues, raising over NPR 7.23 billion - including IPOs, FPOs and Rights Issues, has been managed so far, while four other issues are currently being worked on.
The Mutual Fund department at NIBL Capital Markets has been managing two active mutual fund as fund manager.  The first mutual fund- NIBL Samriddhi Fund -1 with the corpus amount of NPR 1 billion, was issued in the year 2071.  NIBL Samriddhi Fund – 1 has total Net Asset Value of NPR investment of NPR 1.49 billion as of Ashad 2074. Following, a second fund – NIBL Pragati Fund, was issued two years later in 2073 with the corpus amount of NPR 750 million. The Net Asset Value of NIBL Pragati Fund is NPR 753.4 million as of Ashad 2074.  Furthermore, a third mutual fund scheme- NIBL Sahabhagita Fund, has been registered and is currently in the SEBON pipeline. 
NIBL Capital is strongly pursuing its digital agenda and therefore it is the first company amongst its peers in the industry to launch a comprehensive mobile application- NIBL Capital Mobile App, which helps its clients to access the details of their DEMAT Accounts, the Mutual Fund NAVs, and also allows the clients to track their portfolio growth. NIBL Capital aims to serve its clients in the best way possible so they can benefit from their services provided by them.
In the very near future, NIBL Capital intends to merge with Ace Capital. After merger, the total paid up capital would reach NPR 180 million which will be highest in the industry. Moreover, the management plans to increase paid up capital to NPR 350 million gradually. The company is also working on setting up new departments and advisory team to capitalize on new business segment of Venture Capital & Private Equity, Business Plan Development, Working Capital Financing, Loan Syndication, Hedge Fund and Financial Advisory. Furthermore, NIBL Capital Markets Ltd aims to increase its branches across the nation. The company is opening 3 new branches - Lagankhel, Seepadole, and Pokhara in near future and intends to open few more branches covering East to West Nepal across the border.
To celebrate this special occasion, the company organized three events with an intention to pay back to society under its Corporate Social Responsibility, a Blood Donation Program, an Investment Awareness Program, and donations to various orphanages. These programs were held on 15th Shrawan, 2074 at the premises of NIBL Capital Markets, Uttar Dhoka, Lazimpat. Furthermore, the company is also working with the Kathmandu Metropolitan City Ward No. 2, to create a public garden area outside its office premises.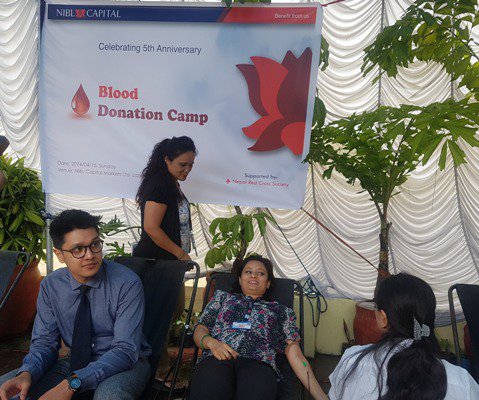 Similarly, a donation of NPR 1.5 lakhs was made to ECDC foundation, with an intention to cover essential expenses such as schooling costs, hostel/ accommodation fees, cost of books and clothing for one child for duration of one year. Furthermore, a donation of NPR 30,000 was made to Heart Beat foundation, for sponsoring lunch for 5 children for one year
The Blood Donation Program was attended by various investment bankers, merchant bankers and students. The Investment Awareness Program was aimed to provide a good networking opportunity and exposure to capital markets for students at undergraduate and postgraduate levels.
NIBL Capital believes that investment in knowledge and education is one of the best assets one can invest in. Therefore, a donation of NPR 2.5 lakhs was made to the foundation- First Ray of Hope, with an intention to provide free educational sponsorship for two orphans till class 10.
.