External Affairs Minister of India Sushma Swaraj called on Prime Minister Sher Bahadur Deuba. During the meeting, they discussed the issue of national and mutual interest. PM Deuba is set to embark on a five-day official visit to India from August 23 after being elected to the executive head of the nation.
They discussed a wide range of bilateral matters of mutual interest, according to a source close to PM. "Both sides also reiterated their commitment to deepen the friendly relationship between the two countries."
Swaraj arrived in Kathmandu to take part in the in the 15th ministerial meeting of the Bay of Bengal Initiative for Multi-sectoral Technical and Economic Cooperation (BIMSTEC)
External Affairs Minister Swaraj arrived today to attend the BIMSTEC ministerial meeting.
DPM Hosted Welcome Dinner
Deputy prime minister and Foreign Minister Krishna Bahadur Mahara also hosted welcome differ to BISTEC delegation. Along with other foreign ministers, External Affairs Minister Swaraj attended Welcome Dinner.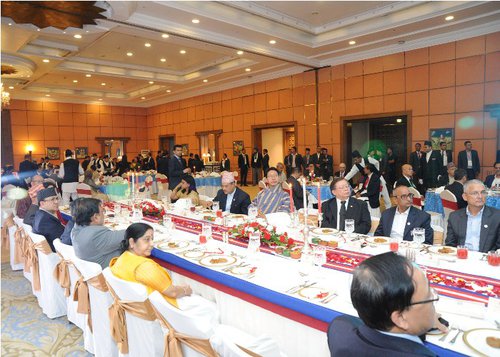 Foreign Secretary Shanker Das Bairagi and Chair of 18th Session of BIMSTEC Senior Officials' Meeting, briefed the media following the completion of the meeting.
"The Eighteenth Session of the BIMSTEC Senior Officials' Meeting successfully concluded today. Recognizing the importance of trade, energy, and technology in regional cooperation, the Meeting discussed on: Early finalization of the BIMSTEC Free Trade Area agreements, signing of MoU for the Establishment of the BIMSTEC Grid Interconnection conclusion of Memorandum of Association on the Establishment of BIMSTEC Technology Transfer Facility," said foreign secretary Bairagi.
"The Meeting also felt the need for concentration on core areas (trade, investment, connectivity, energy, tourism) rather than proliferation. It urged Member States for an early operationalization of BIMSTEC Centers established in the respective Member States.  Nepal proposed to circulate a draft concept paper on Mountain Economy and host an expert level meeting to finalize the concept paper.  Nepal, as the lead country for poverty alleviation sector, offered to host an expert level meeting on poverty alleviation on 1 November 2017.," said foreign secretary Bairagi.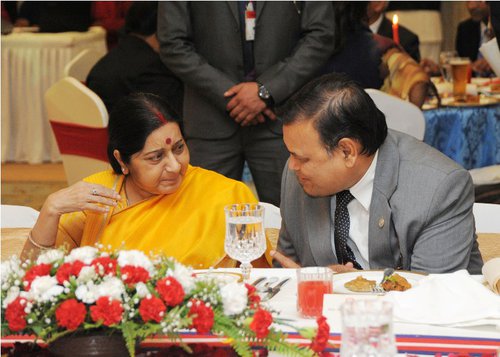 "Nepal offered to host the Fifth Meeting of the BIMSTEC Sub-Group on Prevention of Illicit Trafficking in Narcotic Drugs, Psychotropic Substances and Precursor Chemicals, the Eighth Meeting of the BIMSTEC Sub-Group on Legal and Law Enforcement Issues, and the Tenth Meeting of the BIMSTEC Sub-Group on Anti-Money Laundering and Combating the Financing of Terrorism in the first quarter of 2018," foreign secretary said.
The Meeting noted the programs and activities undertaken to mark the occasion of the 20th Anniversary of the BIMSTEC and the Member States informed of various programs to be hosted in their respective countries. Nepal is planning to organize an interaction program focusing on BIMSTEC and its future directions this year.