A thirty-member Nepali National soccer team is leaving for Japan for a 10-day visit under the invitation of the Ministry of Foreign Affairs and with the cooperation of the Japan Football Association.
The invitation seeks to deepen the friendly relations among the youth of the two natural disaster prone countries through friendly games, and also by observing and learning about Japanese disaster prevention technologies and environment protection.
According to a press release issued by Embassy of Japan, besides visiting disaster prevention centers and experiencing Japanese culture, the visiting football team will play friendly games with Gamba Osaka U-23, Kwansei Gakuien University, Amities Sports Club, Hanan University, and Vissel Kobe on August 13th, 16th, 17th, 18th, and 19th, respectively.
The Japan Football Association had earlier dispatched Koji Gyotoku, National Football Coach, and Chiaki Takeda, Technical Director to support the All Nepal Football Association (ANFA) upgrade and promote Nepali football.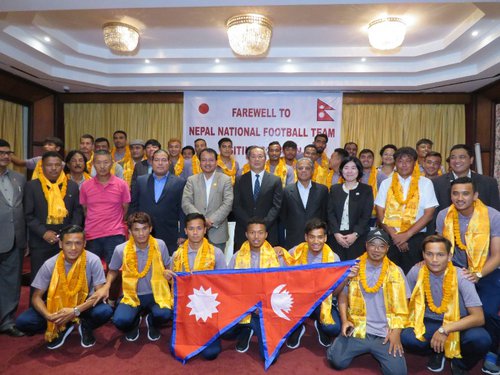 Masashi Ogawa, Ambassador of Japan and Keshav Kumar Bista, Member-Secretary of the National Sports Council attended the farewell reception organized by ANFA yesterday in honor of the departing national team.
"The Embassy of Japan believes that the visit will help the young athletes to understand the state-of-the-art disaster prevention technologies of Japan. Additionally, such types of visits will further enhance the cordial relations and mutual understanding between the two countries," said a press release.