To celebrate 70 years of India's Independence. Indian Embassy hosted a reception at India House in the presence of External Affairs Minister of India Shrimati Sushma Swaraj. 
Indian Embassy hosted a reception to celebrate 70 years of India's Independence at India House Kathmandu. Attended by External Affairs Minister of India Sushma Swaraj, Prime Minister Sher Bahadur Deuba was a Chief Guest.
According to a press release issued by Indian Embassy, the Reception was attended by nearly 500 persons including senior political leaders, business persons, media persons and other prominent Nepali dignitaries. 
At the occasion, a short video highlighting the development partnership between India and Nepal and showcasing the close ties across various sections of their societies was screened.  The video included Audio-Visual bites from Nepalis about how various aspects of these bilateral ties influence their daily lives.  This year also marks 70 years of establishment of diplomatic ties between India and Nepal.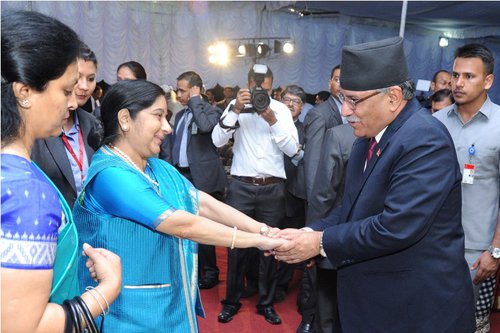 Speaking at the Reception, Indian External Affairs Minister Sushma Swaraj highlighted the strides made by India since Independence. "Noting the closest of the ties that bind India and Nepal she underlined the highest priority that India attaches to its relationship with Nepal," Minister Swaraj said.
Prime Minister Deuba complimented the people of India for their achievements in 70 years of Independence and stated that Nepal has benefitted tremendously from its historic ties with India.  He added that his Government attaches high importance to further strengthening of India-Nepal relations.
Indian Ambassador to Nepal Manjeev Singh Puri also addressed the program.