Massive Flood caused by heavy rain killed at least 30 people with 4 disappeared. The flood forced thousands of people to leave their houses. According to Ministry of Home Affairs, there is likely to increase the number of casualties.  
In an emergency meeting, Home Minister Janardan Sharma Prabhakar directed concerned officials to take necessary steps to rescue and rehabilitate the people.
The officials at Ministry of Home Affairs expect that the casualty is likely to increase given the volume of rain falls occurred across Nepal.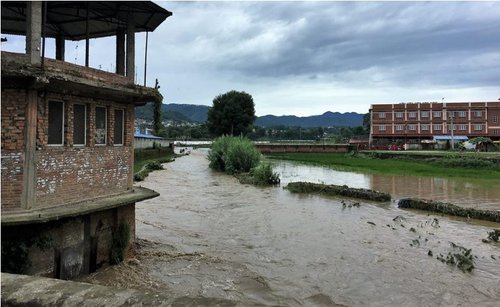 As announcement made by Department of Hydrology and Meteorology, there was heavy rain all over Nepal and rain will likely to continue for the day.  As the flood caused by heavy rain completely paralyze the life of Jhapa, Moran, Sunsari, Saptari, Sarlahi and Rautahat District killing 23 and 4 disappeared.
According to the disaster division, there was a casualty of Sunsari 6, Sindhuli 4, Banke 4, Jhapa 1 and Morang 1. Four people were buried by the landslide in Panchthar district.