As the water level in Kosi, Kankai, Kamala, Badganga, Rapti and dozens of other small rivers and streams has gone up above the risk level, flood Forecasting Section of Department of Hydrology and Meteorology issued a warning requesting people to take precautionary measures for possible floods in many parts of plain areas of Nepal. Kosi's flood is getting higher and large numbers of people have already been evacuated to the safe areas.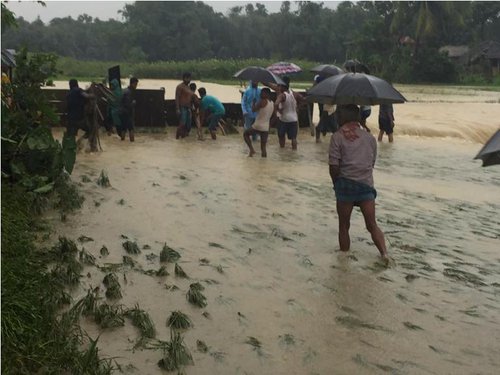 According to the section, the water level in Kosi and Kankai rivers has already reached the danger level and a similar situation is in other rivers. With the monsoon pressure is building close to Chure and Terai, there will likely be more rain throughout the country.

"Those who living in the river areas in plain need to be cautious as there is high risk for a flood," said a statement.
According to Police, four people of the same family were killed by a landslide in Kamla Mai Municipality Ward 4 of Sindhuli District. According to Weather Forecasting Division, there will be mostly cloudy throughout the country. Light to moderate rain to occur at many places in the country, chances of heavy rainfall at a few places in the country.