As the government is yet to start the retrofitting of most of the Rana Palaces damaged by the earthquake, including Shital Niwas, the presidential palace, and Singh Durbar, Prime Minister's office, some individuals have made proud efforts to preserve some of these old monuments.
As Babar Mahal, which hosts Nepal's Auditor General's Office and Department of Road, are on the verge of ruin, former Army Chief General Gaurav SJB Rana and his brother Gautam SJB Rana took the initiative for the preservation of the small backyard or shed of that palace. Popular among many Nepali, the Babarmahal Revisited is an example of how to preserve Nepal's own history.  
Similarly, a large or main portion of the Thapathali Durbar, which is Nepal's Central Bank, is facing demolition. Dr. Ajaya Sumsher Rana, a very well known  orthopedic, has persevered a portion of the Palace in Thapathali known as Goal Ghar, where Nepal and Tibet had signed the peace treaty.
Similarly, the government owned portion of Agni Bhawan, which now houses Department of Internal Revenue, is cracked. Ram Shanker Shrestha's family, owner of Shanker Hotel, also preserved the old part of Agni Bhawan, a Rana Palace in Lazimpat. With retrofitting, they have saved the palace grandeur.
At a time when there is a spree for destruction of the Rana palaces, some individuals and family members of Ranas have made efforts for the preservation of these palaces. Conservationist Chanda Rana has been launching a crusade to save Sita Bhavan and Lalita Niwas for the last two years. Although Nepal Rastra Bank has already demolished Lalita Niwas and has reportedly agreed to construct it following the old front design, Sita Bhawan is in a dire condition because of failure to cover the roof by a plastic sheet. Despite her repeated requests, the authorities are yet to purchase the plastic sheet. "I will continue my struggle to save Sita Niwas," said Rana.
With the orders from Nepal Rastra Bank, Singha Mahal, a long important legacy of history at Thapathali, is now demolished. By using the heavy equipments, the contractor demolished the entire building, throwing the bricks as a waste.
Reportedly built in 1745, with the initiative of Nain Singh Thapa, father of PM Mathabarsingh Thapa, Thapathali Durbar Complex was renamed to Singh Mahal after Singh Sumsher, son of Chandra Sumsher, inherited the palace. Nepal Rastra Bank demolished it sensing no history and contribution of the Palace.
The palace represented all major political upheavals and all powerful clans of Nepal's history, Thapas and Ranas. Even Prince Waldemer, the first German Prince who visited Nepal in the year of 1845 writes about the Palace and its interior decoration during the period of Mathbar Singh Thapa.
Prince Waldemer mentioned Mathbar Singh as a great hearted lion with power to execute seven persons. He mentioned the buildings and Thapa's test of dress and interior decoration of palace.
After the fall of Thapa aristocracy, Jung Bahadur Rana began to live in his grandfather's Thapathali durbar. Following Bhandarkhal Parva in 1848, he was able to seize all of the immediate property of his maternal uncle PM Mathabarsingh Thapa and PM Bhimsen Thapa. During this acquisition Jung also acquired Thapathali durbar complex.
As the head of all state affairs, Jung Bahadur built a new lavish palace within Thapathali complex under his royal architect Ransur Bista but later after the construction in 1855 he gave it to his son Jagat Jung.
The palace also hosted Chandra Sumsher JBR, who stayed there for 18 years until 1904. After Chandra Shumsher's death, his son Singha Shumsher JBR inherited the Thapathali Durbar Complex and named it Singha Mahal.
With the nationalization of Rana Palaces following the political change of 1950, many Rana Palaces came under the government control. However, many palaces were demolished because of negligence of the government and lack of funds.
Many Ranas sold them, dividing them in pieces. After the earthquake of 2015, it seems now that the remaining few palaces, which represent the different periods of political history, are in the process of demolition.
Most of the Rana palaces are white plastered, have been built in Neoclassical or Baroque European architectural style, and are made up of four wings with arresting French windows, Grecian columns, and a large courtyard in the middle for religious and ceremonial purposes.
Black lentil paste, molasses, brick dust, mustard meal, and limestone powder were used in the cementing and plastering mixture. Lime-plaster (Bajra), a mixture of molasses, black pulse, jute, brick dust and lime, was the main ingredient for plaster as it had been for centuries in Nepal, primarily as it had good resistance against humidity.
The Rana rule lasted for 104 years, and during that time a number of grand royal residences were built, especially by the Prime Minister, his immediate family, and other high-ranking dignitaries.
After the overthrow of the Rana Dynasty, some palaces were converted into government buildings. Others were demolished by their owners and rebuilt into libraries, museums, hotels, and heritage complexes.
Most palaces still in private ownership have been destroyed or lie in ruins. Most government-owned palaces have been in similar fate.
"I am inspired to preserve the heritage to show people that using the local raw materials you can still make good houses. One doesn't need to build concrete houses," said Gautam Sumsher Rana.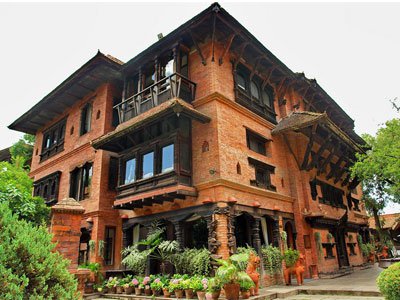 Restored with support from Austrian Cooperation, Dream Garden, a part of Keshar Mahal, is the main attraction for Nepalese as well as foreigners. This part is now well maintained by Dwarika's Group of Hotels, which is owned by Conservationists and Social Worker Ambica Shrestha. 
U.S. Support To Renovation
 At a time when Nepal's Rana Palaces are under threat of demolition, the U.S. Embassy has announced this year's recipients of the Ambassadors Fund for Cultural Preservation (AFCP). 
Following the worldwide competition, two grants were awarded to the Impact Foundation and the Kathmandu Valley Preservation Trust (KVPT) to support the restoration of the south wing of the Kaiser Mahal Palace and the Char Narayan Temple at Patan Durbar Square, respectively.
According to a press release issued by The U.S. Embassy in Nepal, trough the AFCP, the U.S. Embassy will provide $400,000 to the Impact Foundation for the conservation and restoration of the earthquake damaged south wing of the Kaiser Mahal Palace in Kathmandu.  The project will stabilize, seismically strengthen, and support urgent restoration work needed to repair the neo-classical Rana style building built in 1895.
 "As we celebrate the 70th year of diplomatic relations between our two countries, this support to preserving Nepal's cultural heritage demonstrates the United States' enduring friendship with Nepal," said Chargé d'Affaires Michael Gonzales. "The United States is committed to protecting Nepal's unique and irreplaceable cultural heritage.  The restoration of buildings like Gaddi Baithak, which began in September 2016 through U.S. support, and the Kaiser Library are key to preserving historically significant neo-classical buildings damaged by the 2015 earthquakes."
Since its inception, the AFCP has demonstrated America's respect for the cultural heritage of other countries by supporting over 800 projects in more than 125 countries.  In Nepal, the AFCP has supported twenty-two projects through $3.4 million in U.S. government grant funding.