Sachin Dangi, 17 years old from Dang has been awarded the title 'Wai Wai Glocal Teen Hero 2017' amidst a special function organized in the capital. The jury of WaiWai Glocal Teen Hero 2017 handed over the Trophy to the winner.
Sachin is a president of the Teenage society of Nepal- an online group with 5000 Nepali Teenagers and 70 Volunteers.
Currently, he is working on '7 days- 7 heritage project' and Human Rights awareness project ( here they brief all articles written on Human Right Declaration forum to Teens). He is also an Ambassador of OYA for Nepal. He also works as a young scientist at Kaicho Nepal where he and his team work to make Nepal Digital. Also, he is facilitating free Aurdino programming throughout Nepal to students for free.
According to an organizer, this year's competition had received over 320 applications, from fascinating teenagers demonstrating the diverse potential of this often under looked age-group of people. The applicants had demonstrated their skills and expertise, and made an impact in their society, from areas like social work to journalism, from mobile app development and computer programming to robotics, and from entrepreneurship to community development among others.
Sachin Dangi (17 years, Social Activist, Dang) was selected from among top 6 finalists in the competition viz. AlbinaParwin (16 years, Social Activist, Sunsari), Ayush Pandey (17 years, Computer Programmer, Rupandehi), Prithu Singh Thakuri (19 years, Entrepreneur, Kathmandu), Rajaram Basnet (18 years, Social Activist, Dolakha), Sachin Dangi (17 years, Social Activist, Dang) and Tanmay Chaudhary (17 years, Inventor, Dhangadhi).
Glocal Teen Hero is the only national platform in Nepal to recognize and honor the outstanding teenagers. It is a platform for Nepali teenagers to share their initiation, creativity, and enthusiasm which will then motivate them and more of the other teenagers in the nation to develop an entrepreneurial thinking.
This is the third edition of the first ever program designed in the country to recognize dedicated, passionate, and innovative teenagers so as to encourage their initiatives. Bipana Sharma, a 17-year old child rights activist from Sunwal, Nawalparasi, and Santosh Lamichhane, young robot inventor were felicitated with the First and Second Glocal Teen Hero awards in the years 2015 and 2016 respectively.
Started from inside the Kathmandu valley only in the year of inception, the competition this year had reached out to teenagers nationwide (18 different destinations to be precise), and conducted inter active sessions in various schools, colleges, and communities.
To make the program a grand success, this year, Glocal partnered with WaiWai, Coca-Cola, Panchakanya Group, Honda, QFX Cinemas, Toyota (VOITH) and Landmark Education. Nepal Tourism Board, European Union, UNDP and National Youth Council are the strategic partners for the program. Facts, IMS Group, KGH Group, YUWA, AYON, Restless Development, YES! Club World Nepal, View Your Choice, Hotel Ambassador, International Youth Committee, and Anurodh Nepal are the supporters of the program.
Soaltee Crowne Plaza is the official hospitality partner. Sparrow SMS is the SMS partner and Events Mo is the Event App Partner. Partnership with various such organizations working on youth-segment helped the program reach every nook and corners of the country, and ensured no teenagers having talents and potential were left-out from the competition.
The 5-member jury panel had shortlisted the 6 amazing teens (ages 13-19) for their achievements, initiations or innovation in any other field outside of their respective school's or college's curriculum. The jury panel this year comprises of Renaud Meyer, UNDP Country Director to Nepal, Suraj Vaidya, President of Vaidya's Organization of Industries, Upaul Majumdar, General Manager of Soaltee Crowne Plaza, Reecha Sharma, Actress, and Ranjit Acharya, CEO of Prisma Advertising.
The selection was based on their resume, the evidence and an essay on their accomplishment. These six teens also went through a six-days-long capacity building workshop, training, corporate visits, and recreation.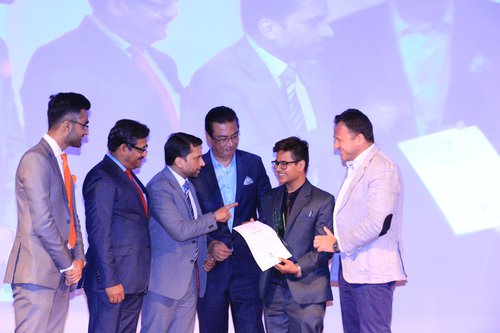 After SMS voting round, the finalists were then individually interviewed on the basis of attitude, vision, and articulation by the panel of judges and one fantastic teen was announced for the year on 1st of September 2017.
The action-packed award ceremony held at Soaltee Crowne Plaza was attended by 250+ personalities of Nepal from different walks of life, such as diplomats, politicians, film stars, entrepreneurs, educators, youth leaders and much more. The celebration and award gala was also broadcasted live on AP1 HD Television.
First WaiWai Glocal International Teen Conference 2017 held
Similarly, Glocal also organized the first WaiWai Glocal International Teen Conference on September 1, 2017.
WaiWai Glocal International Teen Conference (GITC) is the first ever international conference for teenagers in Nepal. GITC is an opportunity for teenagers to authentically address issues that are important to them without having to overcome generational barriers. The conference showcased the ideas, experience, and stories of the teenagers from different countries like India, Afghanistan, Bangladesh, Indonesia, Liberia, Serbia, Cambodia, etc. through series of panel discussions. The panel majors on Entrepreneurship, Empowerment, and Socio-Perspective.
The main objective of this conference was to be the platform of the Global Teenagers' Meet and set an example of teenagers who have worked in countries with more difficulties and spreading a positivity that things are possible with efforts. It is a platform for knowledge and experience where teenagers can learn about leadership, empowerment and social impact through a participatory and interactive environment with their peers from all over the globe.
The conference was held at Soaltee Crowne Plaza, followed by the Grand Celebration of Wai Wai Glocal Teen Hero award ceremony 2017.