As Nepali Congress leaders, who are in power politics, are busy in petty party politics including the nominations and selections of the candidate for forthcoming, a group of Congress leader under B P Ideology National Society(BPINS) celebrated 104 birth anniversary of Nepali Congress stalwart B.P Koirala remembering his ideology and contribution in Nepalese politics.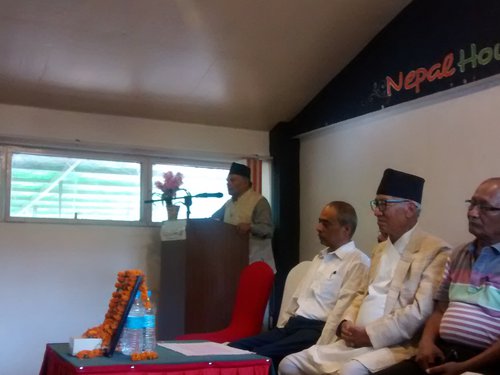 "Nepali Congress is gradually losing its identity grass root base because we are undermining what BP Koirala told us to do. Nepali Congress leader late Girija Prasad Koirala claimed to have brought the long lasting peace in the country with constituent assembly, Republican agenda and Maoist in the mainstream at the cost of BP Koirala's ideology. Politically and ideologically, Nepal Congress is nowhere now as we are the under the partnership of communist ideology," said  Govinda Raj Joshi co-chair of the Society.
"Although BP Koirala remains to 18 months in power, he is the most popular leader in the country even three decades after his death. This is because BP Koirala never compromises the ideology of nationalism, democracy, and socialism," said Joshi. "As BP used to say that Nepali Congress will lose its identity and base, whenever the party follows the power politics at the cost of nationalism and democracy," said Joshi.
Chaired by Surendra Mishra, president of Kathmandu district chapter of BP Ideology National Society, chairman, and leader of Nepali Congress K.B. Gurung said Nepali Congress needs to follow the BP Koirala's ideology which is relevant all the time."BP sacrificed everything for the sake of the country and democracy," said Gurung.
Former speaker of House of Representative Taranath Ranabhat said BP Koirala handed over a strong liberal democratic party to our generation. " At a time when the party leadership is giving up ideology, the new generation will get a party without any ideology and commitment.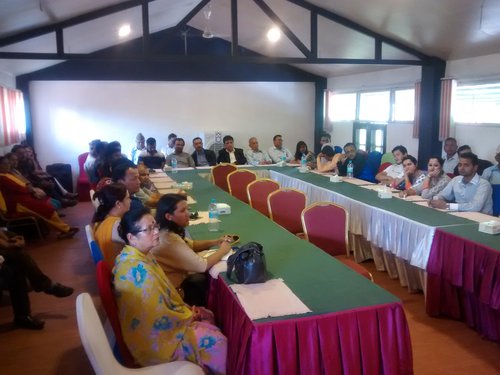 General Secretary of the BPINS Binaya Dhoj Chand said that Nepali Congress cannot survive without BP Koirala's ideology. Lokesh Dhakal, Central Committee member of BPINS highlighted BP's role in national reconciliation.
Similarly,  Treasurer Geeta Pathak and Province No 3 chairman Khem Raj Shedhai also highlighted the importance of BP's ideology in a national context.
Established with an aim to foresee a democratic, rightful, gender equitable and socially inclusive society, BPINS is organizing various programs annually to strengthen the ideological sides of Nepali Congress.