A five-member Japanese Judo team from the All Japan Judo Federation (AJJF) arrived in Kathmandu on 11 September to instruct Nepali Judokas in the martial art. The team headed by Gotaro Ogawa, a special advisor to AJJF, will stay in Nepal for eight days working with the Nepal Judo Association (NJA).
The Japanese Judo team has plans to hold two training sessions per day at National Sports Council, Satdobato, Nepal Police Dojo and other Judo Dojos. This program was designed in collaboration with the Ministry of Foreign Affairs of Japan, as part of the international contribution measures under the Japanese government's Sport for Tomorrow initiative.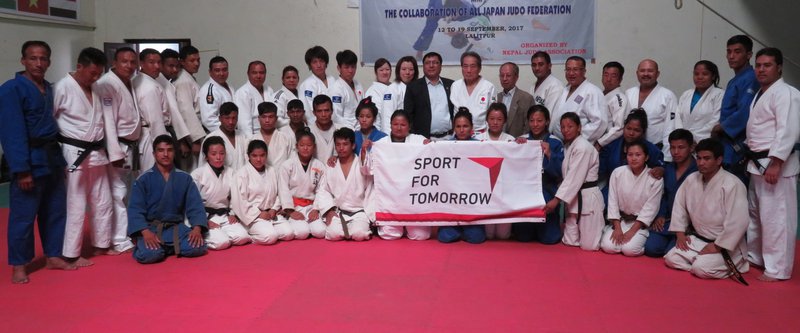 Judo is popular Japanese martial arts, and also well known for the disciplined sportsmanship it inculcates. The Embassy of Japan believes the visit by the Judo team will contribute towards promoting and developing Judo in Nepal, while also strengthening the bond of friendship between Japan and Nepal.
Sport for Tomorrow (SFT) is an international contribution of Japan through sport that is jointly implemented by the private and public sectors, including the Ministry of Foreign Affairs, Japan. This initiative aims to promote sport covering over 10 million people in more that 100 nations until 2020, the year when Tokyo will host the Summer Olympic and Paralympic Games.