Minister of Commerce Min Bahadur Bishowkarma inaugurated the eighth edition of Made In Pakistan Expo at a function at the United World Trade Center. The exhibition will continue till 19, November.
Organized by the Rawalpindi Chamber of Commerce and Industry in Collaboration with a number of Pakistani businessmen, different kinds of products are exhibited at the exhibition.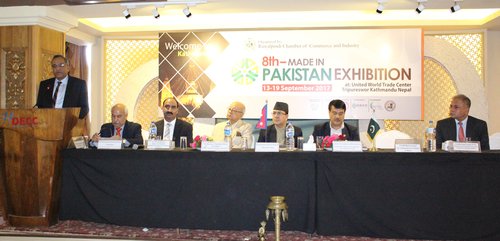 The product includes furniture, leather items, handicrafts, textile products, artificial jewelry are for the sale at the exhibition. A group of more than fifty businessmen from Pakistan came for the trade fair.
Inaugurating the expo, Minister of Commerce Bishowkarma said this kind of expo help to foster the bilateral trade between the two countries. "There are a lot of scopes to enhance the trade between the two SAARC member countries.
Ambassador of Pakistan to Nepal Mazhar Javed said that Pakistan and Nepal have very cordial and friendly bilateral relations.  Pakistan produces a variety of high-quality products. This expo will help Nepalese business communities and people to learn about the products of Pakistan."The expo will greatly help in introducing Pakistani products to Nepalese consumers and provide a platform for interaction between the businessmen of two countries."
Chief Secretary Rajendra Kumar Kshetry and Secretary General SAARC Amjad Hussain B.Sial were also present.
Secretary of Ministry of Commerce, Chandra Ghimire said that there is a win situation for both the countries. As Nepal is diversifying the trade, this expo will provide Nepalese business community to share their views with Pakistani counterpart.
President of Pakistan Nepal Friendship Association Himalaya Sumsher Rana also spoke on the occasion.
After the inauguration, the expo opens to the public and large numbers of Nepalese consumers are already there in the event.