During the last one month, JICA Nepal handed over two of its newly constructed public facilities to the concerned stakeholders of Sindhupalchowk and Gorkha districts. On 15 August 2017, the newly reconstructed Small Farmer Agriculture Product Collection Center in Bhotechaur, Sindhupalchowk was jointly inaugurated by Sher Bahadur Tamang, Member of Parliament and Kozo Nagami, Senior Representative of JICA Nepal.
On 15 September, the Community Training Center in Bungkot, Gorkha was jointly inaugurated by Dr. Swarnim Wagle-Vice Chairperson, National Planning Commission, Dr. Govind Raj Pokharel-CEO, National Reconstruction Authority and Jun Sakuma, Chief Representative of JICA Nepal. Both buildings were reconstructed by JICA based on the "Build Back Better" principle through its "Project on Rehabilitation and Recovery from Nepal Earthquake".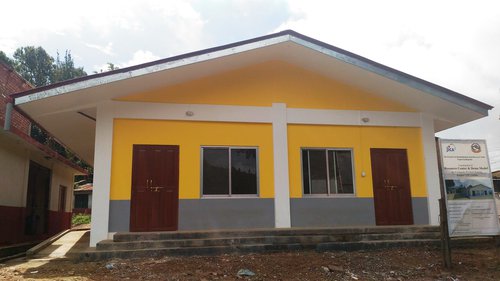 According to a press release issued by JICA, JICA Nepal has undertaken reconstruction of more than 20 earthquake resilient public facilities in Gorkha and Sindhupalchowk damaged by the 2015 earthquake which shall be completed within a span of one year. The Bungkot Community Training Center, handed over to the Shahid Lakhan Rural Municipality, can be utilized for a wide range of community-level activities with major focus on post-earthquake recovery in the Municipality. It is a one-story building and houses a training hall, a kitchen and a canteen. It is also a barrier-free building with a wheelchair ramp and a restroom equipped for people with disabilities.
The construction work started on 25 May 2016 with a total cost of NPR 14.28 million. Bhotechaur Small Farmer Agriculture Product Collection Center in Sindhupalchowk, which was handed over to the Suryamukhi Small Farmer Cooperative Limited, is a two-story building with its ground floor mainly for farmers to store their products before sending to markets.
The first floor consists of a training hall and a few office rooms, and it is hoped that the cooperative which has more than 2000 members will utilize this training facility to share their know-how and experiences with surrounding farmers and contribute to further revitalization of the local economy. The construction work started on 20 June 2016 with a total cost of NPR 14 million. Besides the infrastructure reconstruction support, JICA also conducted a series of farming skill enhancement activities for the farmers in Bhotechaur and other VDCs in Sindhupalchowk.
Combined with reconstruction of agricultural infrastructure in the district, JICA contributes to livelihood restoration among the communities affected by the earthquake. In addition, earlier in April 2017, JICA completed rehabilitation of the nearby rural road that connects Bhotechaur and Melamchi in Sindhupalchwok district with a total cost of NPR 16.25 million. The road was about 13 km long, with improved irrigation facilities, and it is expected to improve access for the farmers to markets. The project was also handed over to the user group during the same occasion.