With an aim to contain human trafficking, drugs abuse, goons, sexual harassment against women, Nepal Police launches a new Program Police In The Vicinity from today.
Minister of Home Affairs Janardan Sharma Prabhakar opened the campaign amid a special function. Launching the program, Home Minister Sharma said that Nepal Police will work closely with community to gather information about such incidents and take necessary against to prevent such incidents.
"This is the priority program of Nepal Police and the part of community police. Police will work closely with community to nab the persons involved in all those illegal activities," said Home Minister Sharma.
Secretary at the Ministry of Home Affairs Lok Darshan Regmi also highlighted the importance of the campaign. Inspector General of Police, Prakash Aryal said that this program has added new dimension in the history of community police in Nepal."Positive thinking will bring the positive results to contain the crime," said IGP Aryal.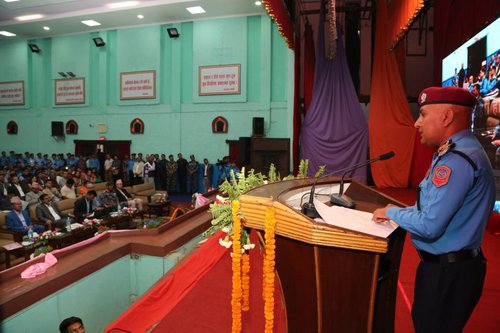 Chief of National Investigative Department Dilip Raj Regmi, Chief of Armed Police Singh Bahadur Shrestha, and security adviser of Minister of Home Affairs Surendra Bahadur Shah also addressed the program.