Prime Minister Sher Bahadur Deuba and members of his delegation return home after successfully completing the three-day official visit to the Sultanate of Oman. Prime Minister Deuba also took part in the 72nd Session of the United Nations General Assembly (UNGA) in New York,
According to a press release issued by Ministry of Foreign Affairs, he arrived here in Oman on September 25 en route to home after participating in the UNGA. Prime Minister Deuba also addressed a meeting of Nepalese diplomats based in Gulf Region.
Oman's Minister of Transport and Communications Dr. Ahmed Mohammed Al- Futaisi, Secretary General of Oman's Council of Ministers, Sheikh Al Fadhl bin Mohammed bin Ahmed al-Harthy, and some other members of the Oman cabinet were at Muscat International Airport to see off the Prime Minister.
During prime minister Deuba visit to Oman, Nepal and the Sultanate of Oman have signed a Memorandum of Understanding (MoU) on establishing a bilateral consultation mechanism between their Ministries of Foreign Affairs. The MoU was signed at Muscat, the capital of Oman on the occasion of the official visit of Prime Minister Sher Bahadur Deuba to the Gulf country.
Deputy Prime Minister and Minister for Foreign Affairs Krishna Bahadur Mahara witnessed the signing ceremony.
Ambassador of Nepal to Oman Sharmila Parajuli Dhakal and Head of West Asia Department at the Ministry of Foreign Affairs of Oman, Shiekh Hilah Marhoon Al-Mammari signed the MoU on behalf of the respective governments.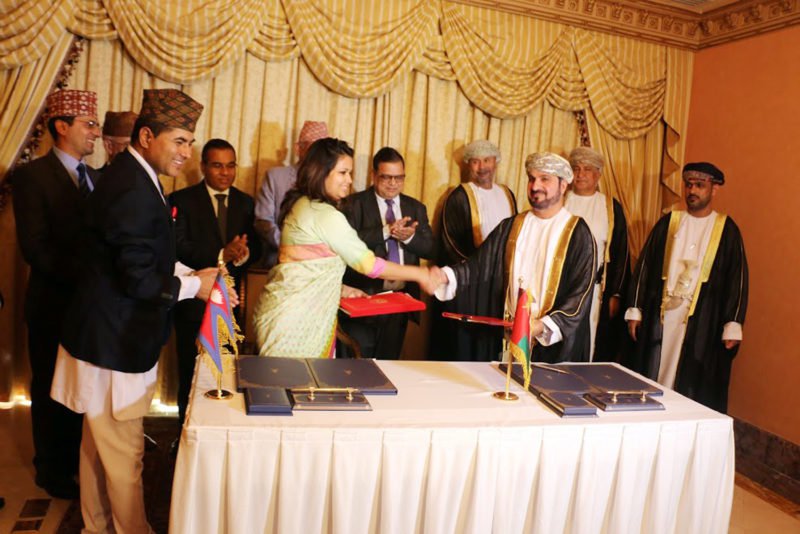 As Nepal and the Sultanate of Oman have been marking the 40th anniversary of the establishment of bilateral relations this year, the conclusion of the MoU reflects the determination of the two governments to enhance and activate different fields of cooperation, particularly on economic, cultural, technological, scientific and educational relations, the Embassy of Nepal in Muscat stated in a press release today.
The MoU provides that bilateral meetings will be organized on annual basis or as deemed necessary, alternately in Muscat and in Kathmandu. The MoU comes into force from the date of its signature for a period of five years and is automatically renewable for similar periods.