DAMAK - Preeti Rai's eyes shine as she turns on a laptop at a computer learning center in Beldangi Refugee Camp in eastern Nepal.
For the past 11 months, the 14-year old Bhutanese refugee girl has been regularly taking computer classes as part of the school syllabus in Panchayati English School in the camp.
"I had always been curious about using computers but growing up in the camp meant that I never had the chance to use one," said the eighth-grader.
Preeti said she was so excited that she used to visit the school with friends even during holidays just to see the lab being constructed.
Hundreds of refugee students, like Preeti as well as students from the surrounding local communities, are now enjoying computer-based learning thanks to a newly built solar-powered lab funded by the IKEA Foundation through UNHCR.
"In the past, I had to rely just on theory classes and textbooks," said Preeti, as her fingers played with the keyboard. "Now I can touch and work on it. Learning has become so much fun."
The lab, fitted with 48 computers and connected with internet facilities in two rooms, became operational in August 2016. Within months, more than 4,100 students, including 1,320 students from the host community, benefitted from computer education in 2016 alone.
In Nepal, UNHCR has been consistently advocating for the inclusion of refugee children in the national education system to provide sustainable, predictable access to formal education. UNHCR believes the quality education that builds relevant skills and knowledge enables refugees to live healthy, productive lives and builds skills for self-reliance.
"Education is the passport to the future not only for refugee children but for all children," said Anna Pelosi, Head of UNHCR Sub-Office Damak. As such, UNHCR is committed to supporting education facilities and the enhancement of ICT facilities to provide students with the tools needed to thrive in an increasingly computerized world.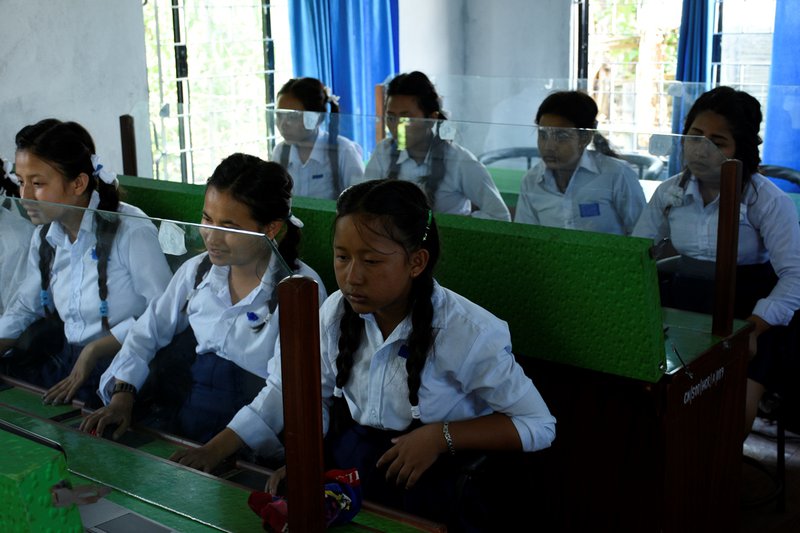 "The learning center provides opportunities for both refugees and host community children to develop skills that are extremely relevant for living in today's increasingly technological society," said Semanta Bhattarai, computer teacher and supervisor of the lab, representing Caritas Nepal.
Access to the computer lab, the first one of its kind, is expected to strengthen linkages between the two communities and promote peaceful co-existence.
"The host community schools don't have computer labs so many students from the surrounding villages of Beldangi are eager to enroll in the computer classes," said Semanta.
This year, more than 3000 students, including 1200 Nepali children from areas surrounding Beldangi Camp are receiving computer education at the center.
Children from grades 5 to 10, who attend their local schools receive practical classes twice a week on Saturdays and Sundays, while refugee students from grade 3 -10 attend computer classes on weekdays.
Although computer education is being taught in local schools, due to lack of computer facilities, students have no opportunity to put into practice the theoretical knowledge they acquire.
The refugee camp-based center has become a hot spot for students, who alongside refugee students practice the fundamentals of communication and computer technology in order to prepare themselves for the technological world in which they are growing up."Most of the students are using computers for the first time and they are really excited," said the supervisor.
"The center has been fully utilized by students," he further said, adding that they were facing challenges to accommodate the high number of local and refugee students wishing to enhance their practical computer skills.
"I was not able to use mouse and keyboard properly but now I have made huge improvements," said 16-year-old Bhutanese refugee, Jit Bahadur Pradhan, who studies in grade 8 in the same school."For me, the lab has opened a window to the world. It has helped me to visualize things beyond my textbooks."
Teachers at the school have also been trained in a range of computer-based education programmes, enabling them to provide a better education to their pupils after the school embraced Information Communication and Technology (ICT) system. They now use interactive tools to teach students as part of their lessons.
"Besides providing quality education, the use of technology is also fostering harmonious relations between the two communities between the refugee and the host community," said the computer teacher.