Although different musical performances are organized in Kathmandu, classical violin is rare. Thanks to the initiative of the Honorary Consul General of Italy to Nepal Pratima Pande, four renowned Italian musicians, representing Quartetto di Cremona, presented a classical music concert in Kathmandu, winning the hearts and minds of over 200 music lovers.
In their one and half hour performance, musicians Christiano Gualco, Paolo Andreoli in violin, Simone Gramalia in viola ad Giovanni Scaglione on cello presented various forms of classical western music.
Addressing the program Pratima Pande, Honorary Consul General of Italy to Nepal, said, "It is my great pleasure to welcome you all to listen to our very famous Italian musicians. Quartetto di Cremona has been travelling and performing around the world. We are very happy that they are with us and will play for us in Kathmandu."
She thanked all different organizations for supporting the program. At the event managed by Malta International, Damiano Francovigh, Consul General of Italy to Kolkata and Nepal, highlighted the importance of classical music and expressed his happiness to be a part of the program.
Foreign diplomats based in Kathmandu, honorary consulate generals and music lovers attended the performance at Hyatt Hotel, where Minister of Industry Sunil Bahadur Thapa was present as the chief guest.
Taste Of Italy
Pratima Pande
It is not often that we get to listen to western classical famous music. Since its formation in 2000, the Quartetto di Cremona has established a reputation as one of the most exciting chamber ensembles on the international stage, playing all over the world and representing their beautiful country. This week they had performances in Kolkata and Delhi.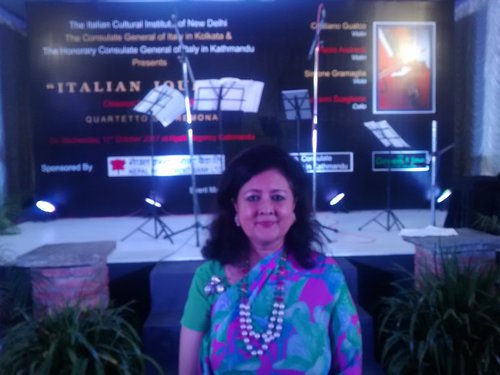 Italy is the country where the great Renaissance took place influencing the whole of Europe and the world in the arts, sciences, architecture, culture and food. Many  gathered here today, have visited Italy and experienced the great cities of Rome, Florence, Venice, Milan and countless other charming places. Many Nepalese students are also studying in Italy, in universities across the country. In Nepal too, there is an Italian community working and residing here, who are present this evening.
Tonight, we in Kathmandu are sincerely looking forward to the taste of Italy, with wonderful classical music performed by our esteemed artists and taste some Italian food prepared by the Hyatt Hotel and sample interesting Italian Cocktails and good Italian wine which is provided by Green Line Centre wine which is provided by Green Line Center Pvt. Ltd, our great friend Amit Agrawal, who has been so generous, I would also like to thank Nepal Investment Bank Ltd, who is the main host for the dinner this evening and of course, the Italian government and the Cultural Center in Delhi and the Italian Consulate in Kolkata, Damiano Francovigh, for flying in the Quartetto of Cremona to help promote and foster great ties between Nepal and Italy. Thanks to Mr. Damiano, this program has materialized.
I would also like to sincerely thank the Hyatt Hotel and the General Manager Sinead O'Reilly and her hardworking staff for being so helpful and supporting to make this evening a great success and also Bijay Suwal, our event manager of Malta International, and how he has helped in the logistics and planning of this functions.
(Pande is the honorary consul general of Italy to Nepal. Excerpts of her statement delivered at the musical program. )