Government officials, experts, and other stakeholders stressed the need to make Nepal's position paper specific and targeted and clear. Expressing their views on UNFCCC COP 23 Consultation Program, they suggested the need to push its agenda through LDC group.

Chaired by the secretary of Ministry of Population and Environment, Dr. Bishwa Nath Oli, 23 participants made their comment on the Nepal's Paper prepared to distribute Nepali delegates. Presenting on preparation and priorities of Nepal for COP23, Dr. Ram Prasad Lamsal, joint secretary and chief Climate Change Management Division of MOPE and UNFCCC Focal Point, said that coming COP 23 is challenges as well as opportunities for Nepal as well. There is a challenge to implement the Paris agreement with the gap of funding. Nepal will raise its concern through the group like LDC and other like-minded groups," said Dr. Lamsal. "The paper presented here prepared following several rounds of consultative meeting.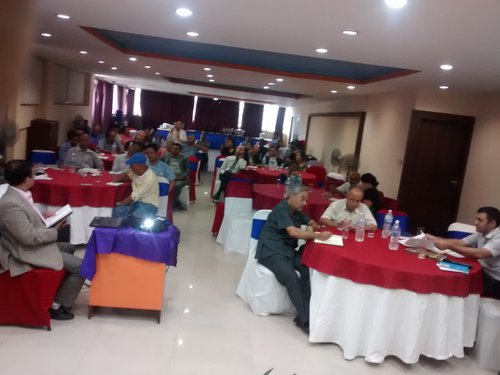 Former Water Resource minister and Academician of NAST Dipak Gyawali commented that the paper does not carry Nepal's stand. He said that Nepal needs to think where it is going for fund following the withdrawal by the United States of America and Brexit. He also posed a question how Ministry of Population coordinated with two big ministries like forest and agriculture. He also questioned why gender has mentioned as an only cross-cutting issue since Nepal has many cross-cutting issues in the context of climate change.
Shanti Ojha from UNDP suggested that Nepal needs to highlight its own achievement made through the implementation of LAPA at a local level in Nepal.
A representative from Ministry of Agriculture and Development Parshuram Adhikary complained that they were not properly consulted. He even said that his ministry is to participate any COP in the past.
Expressing the view on the part of Ministry of Foreign Affairs, Ram Babu Dhakal said that there need to make the balance between diplomacy and technical issue through inter-ministerial coordination. "Ministry of Foreign ministry can play important role in facilitating in international negotiations given their own experiences and expertise," said Dhakal.
Member of Climate Change Council Madhav Karki said that the National paper is good and stressed the need to raise Nepal's own concern through various groups. Former secretary Krishna Gyawali said that Nepal needs to focus on its own agenda and success.
Former joint secretary of Ministry and environmental experts Batu Krishna Uprety shared his long experience of working in the ministry and taking part in the negotiations. He said that there need to have one voice from all Nepalese stakeholders.

DFID's representative said there need to learn how Nepal's new structure like local, province and center will affect the policy in coming months.
Wrapping up the program, Secretary Dr. Oli has made it clear that Nepalese team will raise Nepal's interest through its own group like LDCs and other. Replying to the concerned shown by his former his colleagues from the ministry, secretary Dr. Oli said one has to review the state of Nepal's position during his or her tenure before commenting and criticizing the present.
Manjeet Dhakal, a board member of CEN and advisor to LDC chair, said that this kind of program helped to raise the issue and concern of Nepal. Conducted by Ram Hari Panta, undersecretary of Ministry, joint secretary Dr. Lamsal said that they will accommodate the views in the consultative meeting.
The twenty-third session of the Conference of the Parties (COP 23) to the United Nations Framework Convention on Climate Change (UNFCCC) will take place at the seat of the UNFCCC Secretariat in Bonn, Germany to be presided over by the Government of Fiji from November 6-17, 2017.
The Conference also includes the session of Parties to the Kyoto Protocol and the Paris Agreement, including meetings of subsidiary bodies. Among others, the COP 23 is expected to make substantial progress in the negotiation of the work program of the Paris Agreement.
Organized by the Ministry of Population and Environment (MoPE) together with Clean Energy Nepal and Christian Aid, the UNFCCC COP 23 Consultation Program helped to bring discuss Nepal's agenda for the UNFCCC.