Flooding in southern Nepal this August affected over a million people, displacing tens of thousands. The destruction was widespread in Rautahat District, where 20-year-old Priyanka Singh lives.
Despite being forced from their homes by the disaster, Ms. Singh and her friends decided to take action to help their fellow villagers.
"Even though we ourselves were among the victims, we realized that we were physically stronger than the pregnant women, new mothers, and their children, not to mention the women with disabilities and the elderly affected by the floods," she said.
Ms. Singh leads a girls' group in her village, Basantapatti. In normal times, the young women and girls mobilize their peers against child marriage.
But as they saw the flood crisis unfold around them, they decided to put their skills to use helping those in need.
Reaching women and girls
The young women had all been displaced by the flooding. Their homes were either waterlogged or destroyed. Some were living with host families, and others were living in temporary camps on higher land.
Even so, said 18-year-old Gayatri Sah, "we thought that our support could help families cope with and recover from the floods. Eight of us had three meetings – one while caught in the pouring rain without umbrellas or raincoats – to discuss what we could do."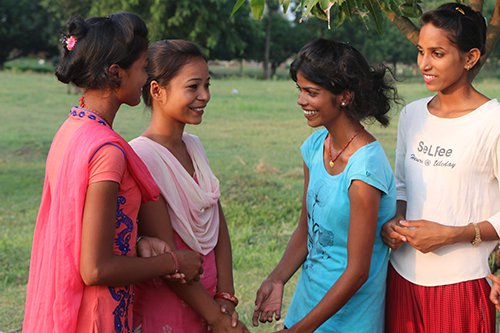 Right to left) Aasha Kumari Pandit, Antima, Priyanka Singh, and Gayatri Sah all played a role in the humanitarian response.  UNFPA Nepal/Santosh Chhetri
They decided to work with the government's Women and Children Office and FUNFPA to provide dignity kits to displaced women and girls. The UNFPA-provided kits contain supplies to meet the unique hygiene and safety needs of women and girls, including sanitary napkins, underwear, and flashlights.

"Many of the women who received the dignity kits told us that we were of great help to them," said Ms. Singh.
They also helped authorities collect details about the flood-affected families in their villages.
And because the risk of gender-based violence increases in crisis settings, the young humanitarians also spoke to women and girls about the dangers they might experience, and where to find help.
"We met with 85 women and girls and shared information with them about available services and support," said Aasha Kumari Pandit, 19. "Equipped with information, women and girls are less vulnerable."
Empowered girls take charge
The girls' group Ms. Singh leads is one of 30 supported by UNFPA and the Women and Children Office.
 All together, these groups reach around 900 girls with empowering messages about health and hygiene, gender equality, human rights, and sexual and reproductive health. The groups even teach skills such as basic accounting and entrepreneurship.
To help her facilitate weekly group sessions, Ms. Singh has received training through a UNFPA-supported programme called Rupantaran, meaning "transformation." The training even touched on the topic of natural disasters.
"Chapter 10 in Rupantaran has helped us understand more about disaster risks, climate change and related topics," she explained.
It was with this knowledge and leadership experience that she and her friends decided to take action.
"The girls who fight against child marriage can also play a critical role before, during and after flooding," she said.
 – Santosh Chhetri Courtesy: UNFPA