Ngamindra Dahal , Kamal Devkota1, Kaustuv Neupane1 and Suchita Shrestha1, 

 On a hot summer day of 25th April, we encountered with Sher Bahadur Tamang who was toiling in a roadside work to lay a new water pipeline at Bhattedanda in Dhulikhel Municipality. Like many of his neighbors, Sher Bahadur lives with his family in a temporary shed after earthquake destroyed his house in April 2015. Smiling faces among the bunch of people there drew us closer to them. It revealed that his community is going to get individual connections of pipelines for the first time within few hours. There was a reason for their happiness as they had to struggle for accessing safe water for which women and children used to spend hours to fetch water from the temporary sources in the surroundings. And, this was going to change forever! 'We will fill our jars at home today!' said his wife in a thrilling voice. She added that as a resident of the same municipality, her community lived on a hope to see this day for decades. A team of researchers from Southasia Institute of Advanced Studies were on the site to understand how a hilly town like Dhulikhel can manage safe water to its residents at affordable prices despite of limited sources. This essay attempts to analyse local context of Dhulikhel where municipal water supply system has been a role model to many other hill towns for the institutional and technical innovations that they used to overcome subsequent challenges.
 Tamang family engaged in installation of new pipeline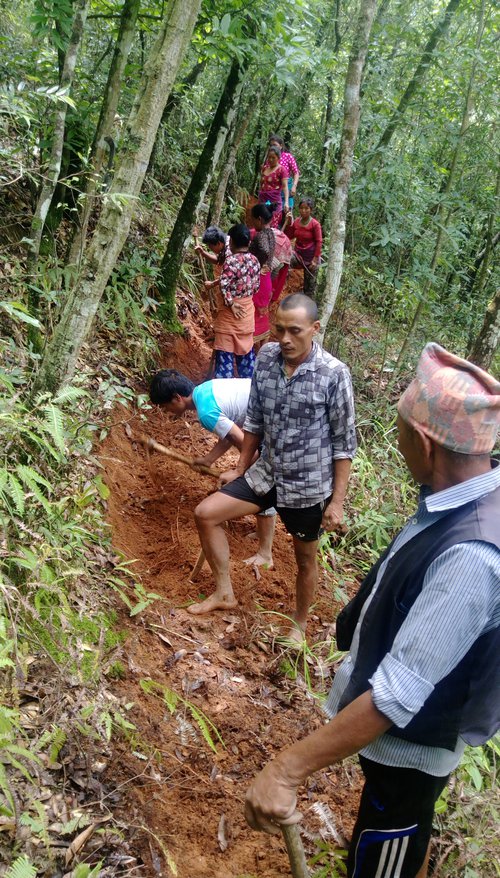 Steep rise on water demand: Located on a mountain ridge at 45 minute drive from Kathmandu, Dhulikhel's strategic position attracts both international and domestic tourists from where a long range of scenic Himalayas is visible. Consequently, number of hotel, lodges and restaurants are ever increasing to serve the growing demand of tourists. In recent decades, Dhulikhel has also grown from a tiny traditional settlements of a few thousand people to over 20,000. On top of this, the recent re-structuring of local government units of Nepal, Dhulikhel Municipality has further expanded to a sizable town after annexation of several neighboring rural settlements. Unlike to its neighbor towns, Banepa and Panauti, the expanded Dhulikhel municipality covers hilly terrain and poorly linked settlements. Accelerating demand of water has put unprecedented pressure on the Dhulikhel Drinking Water Users Committee (DDWUC) officials particularly in recent years when Dhulikhel witnessed rapid urbanization with expansion of tourism businesses, new houses, and public and private institutions. The current water supply distribution system that was built in early 1990s although known for its quality, reliability and community based management practice, is functioning on its limit. People from other parts of country keep visiting to study its management and design to ensure quality and uninterrupted supply with minimum cost of maintenance for such a long period.

Accessing groundwater for hill settlements: We spotted Rameshwor Parajuli, the chief technical officer of the DDWUC supervising the pipeline works. He revealed that expanding of the distribution lines to reach out outskirt settlements became possible only recently after DDWUC installed a new plant to pump out groundwater from a depth over 200m. Although pumping of groundwater in hilly regions like Dhulikhel has been a boon to augment the supply, this recent practice has also raised concerns among various stakeholders about sustainability of the sources. In order to address concern of declining groundwater table, DDWUC officials are collaborating with Dhulikhel Municipality and Southasia Institute of Advanced Studies to recharge groundwater with rainwater by building a series of recharge ponds within forest areas. Prior to the monsoon, they created 24 ponds within upper reaches of the municipality managed forest areas with a total capacity of 10,000 cubic-feet (see picture 2).
 Rainwater collected in the recharge pond (above). Drainage construction on progress to tap runoff water for the pond (right). Capacity of all 24 ponds in various sizes exceeded 10,000 cubic-feet.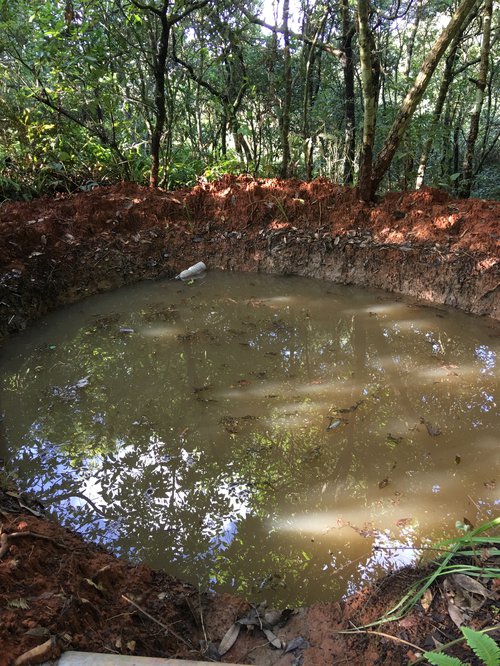 Committed leadership: Prior to the recharge pond approach, Dhulikhel leadership worked with government and ADB for a large scale project called – Kavre Valley Drinking Water Supply Project to augment water supply to the three towns in Kavre Vallley, namely, Dhuilkhel, Banepa and Panauti. The project taps additional sources at Rosi headwaters, which is at 15km from Dhulikhel. Ashok Byanju, the newly elected Mayor of Dhulikhel Municipality and key figure in all new initiatives for water supply looks confident to face emerging challenges to meet all water supply needs of his town.  He says 'Relying on any external source only for essential supply like water is not appropriate, therefore, DDWUC's efforts to conserve local water sources and their recharge zone is commendable for immediate and long term needs of the town'.  The newly elected leaders have promised to ensure sustainable water supply to each households of this bigger Dhulikhel within their term of five years. The past leadership of Dhulikhel used innovations for establishing an advanced water supply system to meet water needs of the time, which led this old town to thrive and prosper ahead from others. The new leadership has hinted using the key elements of the past innovations to achieve their new targets.
Innovative approach for source diversification: In the context of Dhulikhel, a number of options for source augmentation and demand management are identified through dialogues at 'Dhulikhel Pani Chautari' – an open platform to discuss on issues and idea about water management. For the source augmentation, recharge ponds, recharge wells, rainwater collection system, segregation and recycling of waste water or combination of any of these could be appropriate strategies. Likewise, promotion of water efficient devices, technologies or mechanism at household levels can reduce water significantly. Water efficient toilet-flush, bathing showers, and water re-use system are some examples of such approach. Progressive water tariff and effective monitoring of supply system and its maintenance, which is already in place, can significantly help saving precious water.  Making alternative local source accessible to meet part of a regular supply has been adopted as a core strategy to enhance water security and help minimizing the risk of water crisis. Efforts to conserve local sources have worked effectively. In the context of rapid urbanization (growing demand) and climate change (declining sources), diversifying the single source feeding system into multiple may work as the best strategy for the long term.
Concluding remark
Water is the critical issue of all hilly towns partly due to geographic reality where sources are limited, seasonal and costly to tap. Climate change and rapid urbanization have not only added water stresses to make the situation worse, populations in many hill settlements are declining. Traditional knowledge and practices for water management are no more adequate. Towns like Dhulikhel have used technological and institutional innovations effectively to tackle these multi-front challenges. However, Dhulikhel case also illustrates that successful innovations can take effect only when there is a high level willingness from the part of municipal leadership to acknowledge and, act for bringing in innovations. Thus, a combination of interventions with policy tools, technological transfer and demonstrable piloting activities are visualized as a way out to sustain local water sources for a sustainable water supply in the future.