Finance secretary Shanker Prasad Adhikari said the time has come to make drastic progress in the government spending. Addressing Nepal's Tripartite Portfolio Review Meeting, secretary Adhikary stressed the need to accelerate the economic growth in coming years.
Attended by ADB's new Country Director for Nepal, Mukhtor Khamudhanov, government officials and ADB's officials shared their views and evaluate the performance of Nepal.
"TPRM is an important and effective event to improve the performance of ADB supported projects and portfolio. ADB's portfolio in Nepal is growing; and as of end September 2017, the active net portfolio stands at almost $2.3 billion for 35 investment projects," said  Diwesh Sharan, DDG, ADB, South Asia Regional Department.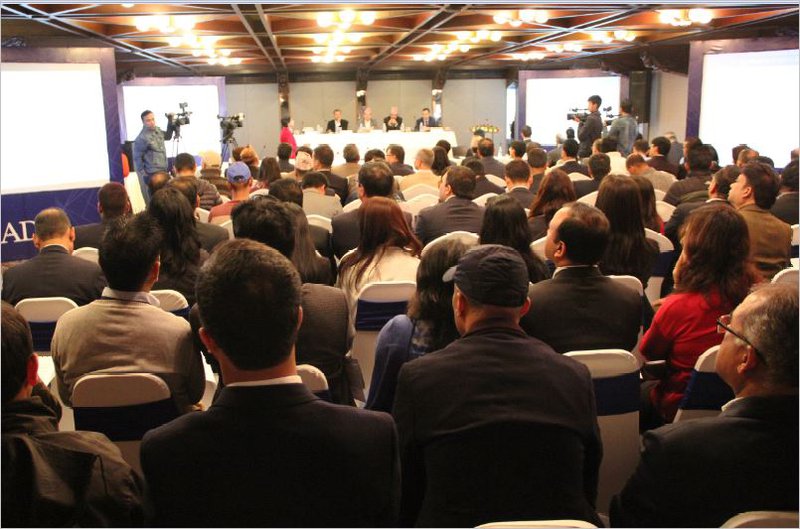 "I am observing 2017 performance is again facing systematic problems —(i)  transfer of key staff project officials, (ii) delays in approval process of land acquisition and environmental clearances and (iii) weak implementation. By end of September, only 49% of the targeted annual contract award of $533 million and 52% of the disbursement of $339 million has been achieved. Focused and collective efforts from government and ADB are required to achieve the annual target," said Sharan.
"I would specially like to highlight the slow progress of few flagships projects – Tribhuvan International Airport, Gautam Buddha Airport, Melamchi Water Supply and its associated Kathmandu Valley Water Supply Projects. Close monitoring of progress and decisive actions are needed for the civil aviation projects, to improve and accelerate implementation to ensure targets and results can be achieved for these flagship projects."
"The main objective of this meeting is to review ongoing projects facing issues affecting implementation progress and collectively agree on actions to resolve them."
Chairing the meeting Joint Secretary- International Economic Cooperation Coordination Division-Ministry of Finance;Baikuntha Aryal said that all the concerned officials need to work seriously to achieve the target.