Ambika Devi Luintel, Permanent Delegate of Nepal to UNESCO and Head of the Delegation of Nepal to the 39th Session of the General Conference highlighted the progress Nepal has made in the education sector over the years which is reflected in the human development report including in gender parity and cycle completion.
Emphasizing on the importance of the Man and the Biosphere as well as the International Hydrological Program in generating and propagating knowledge and awareness to fight global warming and climate change, ambassador Luitel mentioned the establishment of ICIMOD in Kathmandu as a milestone in the conservation of ecosystem of Hindu Kush Himalayas.
While expressing the best wishes of the Government and the people of Nepal for the success of the Conference, Luintel lauded the role played by UNESCO in its field of core competence: education, science, culture delivering a speech at the General Policy Debate.
She further added that global warming has been adversely affecting the mountain regions in Nepal indicating that the melting of ice in the Himalayas has the potential to extensively damage biodiversity not only in Nepal but also in the entire South Asian region.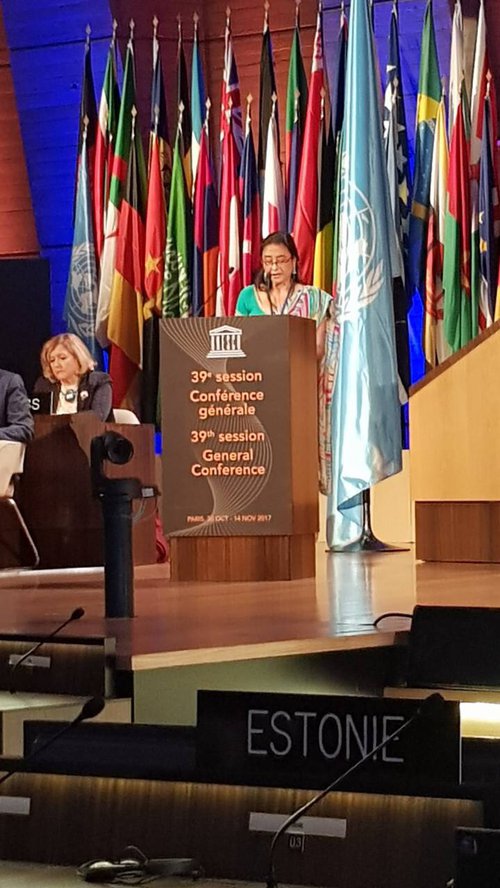 Ambassador Luintel urged UNESCO to address these challenges through appropriate programs within its field of competence. Emphasizing the importance of water, she urged UNESCO to take an initiation for a dedicated inter-sectoral program to link "Life and Rivers" and the implementation of water programs of UNESCO.
Ambassador Luintel apprised the distinguished delegates about the steady progress being made in the reconstruction and restoration of cultural heritage property damaged by the devastating earthquake with the cooperation of UNESCO. The Conference was opened on October 30 and is being attended by Heads of State/Governments and Ministers of 95 member states are participating in the Conference.
It meets every two years, and is attended by Member States and Associate Members, together with observers for non-Member States, intergovernmental organizations and non-governmental organizations (NGOs). Each country has one vote, irrespective of its size or the extent of its contribution to the budget. The General Conference determines the policies and the main lines of work of the Organization. Its duty is to set the programs and the budget of UNESCO. It also elects the Members of the Executive Board and appoints, every four years, the Director-General.