She lived for the needy and left her heart prints of charities behind.
How can I believe, as I write this, it is already 45 days? My mother is no more with me. My words of tribute to her should echo her voice, a gentle, compassionate, warm, inspirational, as always, from when I was a kid to now.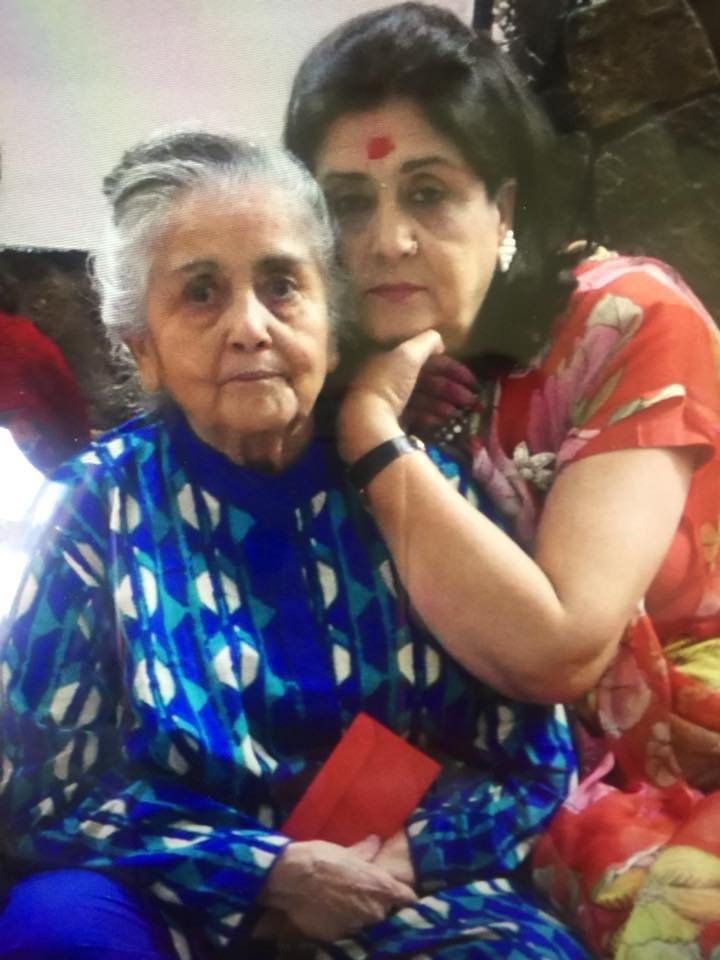 Mom, you always said you spared a meal of yours to share with the needy. Charity is a supreme virtue. Stretch out a helping hand, no matter how small your charity is, it is not wasted. Charity creates love.
Yes, my mother Shashtika (Karki) or (Sarita Thapa, the name given by my father) was a favorite granddaughter of Brig. Colonel Indra Bahadur Karki, a prominent, most powerful hazuria (personal secretary) of Colonel PM Judha SJB Rana.
She used to stay with her grandparents at their house in New Road more often than she did at Pulchwok, even as a kid, exploring Dhukuti and store of groceries of her grandmother, trying to steal some clothes and food, just to give away to the needy people or deprived visitors at home or in the neighborhood.
Her sisters remember when she was not able to take out sugar, rice and lentil from the tightly closed sacks, she punctured holes in them with knitting needles and took the stuff out for distribution. Her noble vision, coming from a warm heart, to share to the needy was her blessing she had by birth.
With the virtue of sharing and caring, she came to her Naxal house as a bride of my doting father Keshav Jung Thapa, son of Chief Engineer Brig. Colonel Dilli Jung Thapa, where, as a joint family of 13 sons and a daughter of my grandparents, I remember my mother being an angel of all the family members because of her unconditional love, generated by her noble and charitable heart.
She was taught by private tutor at home for her basic education by my father but we found her a poetess, with her collection of poems, where she had portrayed the finest sculptors of charities on her poems as inspirational ones to all, Joy of Giving.  We launched the small booklet of her poems among the family members, which was one of the best moments for seven children of hers (we six daughters and a doting brother).
We remember, as children, with more than 20 other children, including cousins, we would join with our parents, always, at Bhajans of Sai Baba, as both were devotees of Baba.
By the time my mother accelerated her charities she was at pain of her deteriorating bone problem, hence even with a stick in her hand, she just kept on casting her spell of charities as a nonstop mission of her life with a the message, "Carve your name on hearts by sharing a legacy, it is itched into the minds of others where you feel others as yours."
She set an example for all with the little work she did through her Sai Mitra group. She guided all with her sunshine path quoting strongly: One does not need the donor's huge grants to share the love through charities but all you need is just small gestures of love. Hence she did not have any donors.
As she had huge families from both sides and generous friends, who used to flow with her charities, donating as little as they could contribute and be part of her "Mission of Love", where Sai Mitra, and my mother as president with stick, would provide treated water at Nandi Keshar Bahal Chowk, Chardhungae, preserving the magnificent stone carved heritage of the country, providing countless charities to the deprived at hospitals and all over during the national disasters. She has received many appreciation certificates from hospitals and other organizations for her charities.
Even while she was on the wheel chair, bed-ridden and not able to fly her stick, she would secretly, without our knowledge, watch live TV broadcast of the earthquake victims, without roof and warm clothes, shivering under the open sky and feel the pain for them. Then, she collected funds from her family members and bought warm jackets and relief materials to distribute, as per her wishes.
My mother was not happy with the slow performance of the rescue and relief attempts of the government. When I asked her about the mission conducted at the time of 1934 earthquake by PM Judha SJB Rana and others, she was proud that her grandfather was in charge of arranging the relief operation along with others and serving the country. In the interview, she compared the rescue and relief mission conducted of 1934 with that of 2015.
She said no grants were needed from abroad and all earthquake victims were promptly rescued and relief had been operated as priority, later the government provided free roofing to earthquake victims.
As her last charity, she felt the pain of flood victims, from her bed, with her fragile health. She managed to contribute something for it too, as a small gesture of love.
My mother, I remember,  as painting our dreams through her love and teaching us to be "the happy people on earth as givers" as I am asked to write these words of tribute.
To conclude, I feel I must share what went through the day I lost my mother. I was with her at intensive care unit at Norvic. She was admitted there for the adjustment of sodium level in her body and treat her dysentery. Everything was under control as the treatment was going on. As I had fed her last meal the previous night, I found her restless, but did not notice she was about to leave the world the next morning. I was cooking some soup to stimulate her appetite and when I reached the hospital, she was already at ICU.
I called her from the door to say I was there with her. She turned from her side, raising her whole body and stretching her arms, lifting her head upwards to have a glance at me. I noticed her eyes, with her unspoken words, from her heart to me. I could feel her warm heart getting cooler and cooler, her stunning beauty glowing and purifying her.
I could read her gaze at me before she tilted her head after my hugging to her.
It took me back to Fatthepur, Chandra Nahar Days, when I was almost dead (I must have been 6 years old. With no pulse at all due to malaria, all had given up hope. I was moved to the Tulsi's Math. My father had gone far away to bring the doctor. All were crying over my imminent death. But my mother had never given up hope. Her motherly instinct and love revived me from death after she started pouring buckets and buckets of cold water on me, right where I was, sleeping on her lap and arms.
I am said to have moved my fingers and head and my mother's joy knew no bounds. With tears she hugged me and wrapped me with warm blankets, giving me my new  life [ I came to know this from my mother and family members].
Here, I was at Norvic ICU, staying all the time until her last to save her. Doctors were asking me to sign the documents for her to put her into a ventilator, followed by various other signatures for CPR, some life saving injections .. one after another.
I signed all the documents with the hope that I could save her with the life support system. I had an instinct that I could save my mother as she had saved mine by pouring water on me with love and hope …but all went in vain … I was again asked to sign this time to pull her off  from the ventilator to declare her DEAD. That was my last signature there.
Oh my god! I felt  my heart would come out, I thought what a loser I was, where  I had to lose my mother through my signature which I had fancied in style to do many good things in life.
Yes with trembling hand and uncontrolled tears, with heavy heart, I managed to sign it, no idea what I scribbled at the documents all I heard was my sister Shova asking me to be strong.
But by the time I was out from ICU, I was a different person as I could read my mother's unspoken words to me as her last glance to me. I had copied her, I promised her through our unspoken words from heart to heart at her death bed .. and yes I will carry on her never ending dream of charities, along with my brother and sisters, and her doting grand children who have already been taught about Charities by their Beloved, precious  grand mother whose motto was, "The best way to find yourself is to lose yourself in the service of the needy."