Although Nepal-Japan official ties were established only sixty years ago, the contributions made by Japanese have made relations feel like centuries old.
Knowing the affinity of Japanese to Nepal, Rana Prime Minister Dev Sumsher sent eight Nepalese students to learn technology in Japan in 1889.
Nepal is geographically far away from Japan, yet many Japanese citizens have contributed to making it economically prosperous.
Thanks to Japanese Embassy, Nepalese have come to know so many Japanese citizens, without a hype, have made great contributions to Nepal, sacrificing their time and family back home.
Sixty-six years old Yoji Matsuda, president of Megane no Matsuda Co. Ltd, an optical firm in Iwate Prefecture of Japan, never imagined that he would go to become a lover of Nepal, visiting it 60 times in a matter of 24 years.
First visiting Nepal in 1993 as a tourist, Matsuda fell for something in this country. Looking at the hills and Himalayas and people living there, Matsuda made up his mind to contribute to the people of Nepal. As an optical firm owner of Japan, he started to organize eye camps.
His dream to start the eye camp materialized only in 1998 after visiting Nepal for the 22nd time. In his first eye camp, he provided free ophthalmological examinations to underprivileged Nepali people.
When he visited for the 59th time this year, he accumulated philanthropic contribution to Nepal, with free ophthalmological examinations for 7742 people and other free provisions for 4835.
"I feel great when I meet the people in rural areas. This time I met an old woman aged 105 who shared with us her experiences of 1935 earthquake. I really liked to listen to such an old woman," said Matsuda.
Matsusa is not alone Japanese citizen to share stories of such a long attachment and contribution in Nepal's overall development. Some Japanese have been contributing in Nepal in health sectors; some in language and some even got married to Nepali and became a Nepali, serving different sectors.
Since the establishment of bilateral relations sixty years ago, the Japanese government has been providing all kinds of support to Nepal's path to progress. Although they rarely make appearances in public, the people of Japan have made remarkable contributions in the period of last sixty years.
Seventy-two years old, Nobuo (Tokushin) Kasai has a different story to share. His first visit to Lumbini and Mayadevi Temple in 2006 lured him to stay here for long a period of time, as a hotel entrepreneur in Lumbini. He started philanthropic acts in Nepal in 2006, by offering free meals to pilgrims headed for Lumbini. Dr. Kasai built Lumbini Hotel Kasai, a Japanese style hotel in the Lumbini Development Trust area in 2009. The hotel has given shelter to countless people on a pilgrimage.
An outstanding benefactor, a generous financial donor to UNESCO and Lumbini Development Trust and a winner of multiple Nepali prizes, Dr. Kasai stands tall as a successful Japanese businessperson whose contribution to the promotion of Japan-Nepal friendship will never be forgotten.
Eighty years old seasoned nurse Masako Yamane has her interesting story to share. She started her medical volunteer activities in 1983 in Nepal. Ever since, she has been providing health services to Nepali citizens, who have no access to proper medical care due to financial reasons. Founding Rural Health Education and Service Center in 1986 to intensify her medical volunteer activities, she has already provided her service to many needy Nepali.
A winner of multiple prizes since the 1980s, Yamane funded RHESC Acupuncture College to train Nepali acupuncture practitioners.
Some even fall not only in love with Nepal but they decide to dedicate their life in Nepal, marrying Nepali people. Seventy-three years old Hiroko Limoi, married to Nepali Thakali and started a Hotel Sunset View in 1991, which is one of Kathmandu's most popular hotels. Offering Japanese style noodles or Soba made of buckwheat flour produced in Mustang, her contribution to promoting Japanese cuisine in Nepal is immense. She helped Japanese residents facing difficulties after the earthquake.
Starting in 2003, Chie Shrestha's Café and Restaurant U has established itself as one of the best restaurants to offer Japanese food in Nepal. Shrestha's role as a committee member and an instructor of the Supplementary Japanese Language School in Kathmandu for the last 14 years shows her outstanding commitment to the Japanese community.
First visiting Nepal's mountainous villages in 1972, Kazuo Suganuma, a consultant for Monta Dio Consulting Japan, has been tirelessly supporting Nepal's agriculture system. A highly respected long-term Japanese resident in Nepal, Suganuma served as the president o the Japanese Association in Nepal and founded Japanese Chamber of Commerce in 2004. His contribution to Nepal's social economic development is immense.
In the last decades, the number of Nepali-speaking Japanese has drastically increased. Midori Sakamoto, 68, played a key role in establishing the Japanese Language Teachers' Association in Nepal or JALTAN in 1998.
She has been playing a crucial role in successfully organizing JALTAN's annual events such as speech contests for years and has been rigorously educating students in Tribhuwan University and other Nepali leaders on Japanese culture.
Along with Japanese, Nepali people who trained and studied in Japan have also been making contributions in Nepal's development. Archana Pradhan, senior manager, patient care service department of Grande International Hospital, is one of them. Trained with an HMBA for International University of Health and Welfare Japan, Pradhan has also been assisting Japanese residents and tourists visiting Grande International Hospital as an interlocutor or medical interpreter for Nepali medical professionals.
Chairperson of Nepal Chamber of Commerce Rajesh Kaji Shrestha has also received a letter of appreciation for his role to promote and strengthen Nepal-Japan relations.
The certificate of appreciation ceremony has shown that more Japanese have developed their personal attachment to Nepal over the six decades of official relations than those awarded at the event.
Japanese ambassador to Nepal Masashi Ogawa conferred ambassadorial certificate of appreciation to nine Nepali and Japanese individuals and organizations who have worked for a considerable period of time to strengthen the relationship between Japan and Nepal.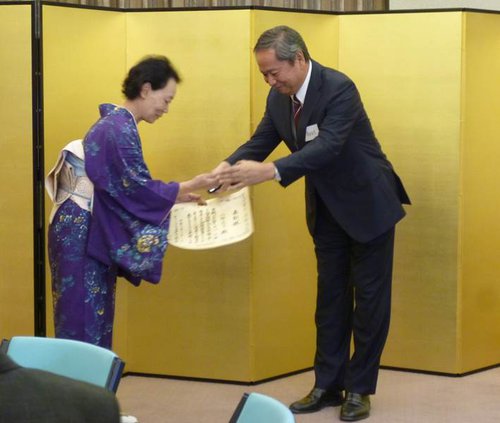 Those who received the certificate of appreciation include Nepal Chamber of Commerce, Archana Pradhan, senior manager, Patent Care Service department, Grande International Hospital, Chie Shrestha, owner, Café and Restaurant U. Masako Yamane, KAI Therapist, Rural Health Education and Service Center, Hiroko  Limori, owner, Hotel Sunset View, Dr. Nobuo (Tokushin) Kasai, Chairman Lumbini Hotel, Kasai.
Others include Kazuo Suganuma, president, the Japanese Association in Nepal, Midori Sakamoto, Japanese Language Teacher and Advisor, the Japanese Language Teachers' Association Nepal and Yoji Matsuda, president, Megane no  Matsuda Co. Ltd.
Addressing the program, ambassador Ogawa expressed his confidence that the recipients' ongoing contribution and cooperation will continue to play a significant role in enhancing the friendly and cordial ties between the two countries.
According to a press release issued by Embassy of Japan, Ambassadorial Certificate of Appreciation can be awarded to any individual and organization, in a variety of capacities, who have contributed to the activities of Japan's diplomatic missions. By conferring these certificates, the ambassador recognized and thanked them for their efforts in such important fields as economic or technical cooperation, cultural activities, public relations, and the promotion of friendship and mutual understanding between Japan and Nepal.