The Tenth South Asia Economic Summit took off in Kathmandu with the ministers, legislators, and policymakers of South Asia stressing that the region could achieve sustainable development on the back of regional integration.
Organised jointly by National Planning Commission (NPC), Ministry of Commerce, Government of Nepal and South Asia Watch on Trade, Economics and Environment (SAWTEE) the summit will conclude on 16 November. The theme of the summit is 'Deepening Economic Integration for Inclusive and Sustainable Development in South Asia."
Inaugurating the Summit, Minister of Finance Gyanendra Bahadur Karki welcomed the participants hoping that the discussions and insights will find their way to the policy world as well.   
He expressed Nepal's readiness to collaborate and cooperate with SAARC countries on any initiative citing the various trade facilitation and transit improvement activities that are being implemented and the sensitive lists of import goods under South Asian Free Trade Area (SAFTA) that are getting shortened.
Lyenpo Lekey Dorji, Minister for Economic Development, Government of Bhutan highlighted the challenges facing economic integration in South Asia but expressed hope that if the challenges are addressed, South Asia could be the region of economic prosperity as it  offers the brightest spot of growth, hope and optimism, not only for the region but the world at large.
Trade and transit facilitation, infrastructure development, scaling down of tariff and non-tariff barriers, cooperation in transport and communications are required to improve connectivity and promoting private sector growth, he added.
Meen Bahadur Bishwokarma, Minister for Commerce of the Government of Nepal, said, "This year's theme encourages us to reflect on our development strategy and programs and to fine-tune them in line with the Sustainable Development Goals".
Although South Asia has collectively made some progress in getting a large number of people from poverty, the achievements so far are not sufficient to meet our desired goals, he said.
He said that the way forward would require dismantling our trade barriers, enhancing our connectivity and increasing cross-border flows of goods, services, capital, technology, and people.
Abdul Latheef Mohamed, Minister for State for Economic Development, Government of Maldives, pointed out that effective implementation of SAFTA and SAARC Agreement on Trade in Services go a long way to facilitate inter and intra-regional trade.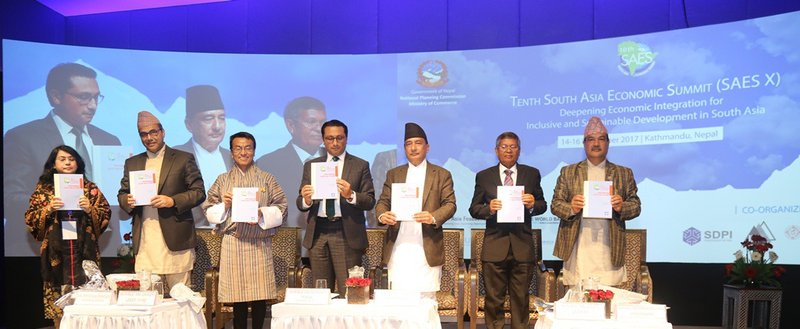 Dr.Swarnim Wagle, Vice-Chairman, National Planning Commission, insisted that this was an opportune moment for the summit to be organized because the region is adopting the twin global themes of development --equity and sustainability.
Dr. Wagle said that it is necessary to lower trade costs, promote a business-friendly environment, increase and ensure optimal use of surplus energy for a speedier development.
Welcoming the participants, Dr. Posh Raj Pandey, Chairman of SAWTEE, said that although intra-regional trade share appears marginal, the actual volume has more than doubled in the last decade.
A book titled "Reimagining South Asia in 2030" was launched by the panelists on the occasion. The book is a compilation of the proceedings of the Ninth South Asia Economic Summit held in Dhaka last year.
The inaugural was followed by a high-level dialogue titled "South Asian Integration: Collapse or Rejuvenation where eminent speakers from South Asia talked about how the two millennia old integration and connectivity have been going downhill all the way to this day.
About 300 participants, including renowned researchers, academicians, experts across various disciplines, government officials, diplomats from the region as well as abroad will be participating in 20 sessions over three days.
The South Asia Economic Summit was launched in 2008 as a platform to discuss and analyze development challenges facing South Asia.  The annual event brings together regional experts from various fields from across the South Asian region.
South Asia Watch on Trade, Economics and Environment (SAWTEE), Nepal; Centre for Policy Dialogue (CPD), Bangladesh; Research and Information System for Developing Countries (RIS), India; Sustainable Development Policy Institute (SDPI), Pakistan; and Institute of Policy Studies of Sri Lanka (IPS), Sri Lanka – take turns to organize the annual event in one of the SAARC countries.