Indian Embassy in collaboration with Indian Culture Centre, organized a joint celebration of Indian Technical & Economic Cooperation (ITEC) Day and Maulana Azad Day.
 Education Secretary Madhu Prasad Regmi was the Chief Guest at the event. Attended by dignitaries, senior bureaucrats from Government of Nepal, ITEC alumni of Indian educational institutions, media and prominent Nepali and Indian citizens, students of ICC gave an endearing cultural performance on the occasion.
The first batch of 12 ITEC participants went to India in the year 2000.  Over the years, the number of seats allocated to Nepal under ITEC program has increased from 12 in 2000 to 250 in 2016. 
Candidates from Government of Nepal as well as from private and public sectors have been trained under ITEC program in reputed institutions in India in the field of computers, engineering, journalism, banking, legislation, power, remote sensing, manpower research, education, empowerment of women, hydrology, law enforcement, business planning and promotion, accounts and finance etc.  From the year 2000 till date, around 1250 participants from Nepal have benefited from attending mid-career short-term professional training courses in India.
According to a press release issued by Indian Embassy, ITEC is about cooperation and partnership for mutual benefit.  It is response-oriented and it addresses the needs of developing countries.  India has always been willing to share its skills and experience with fellow developing countries.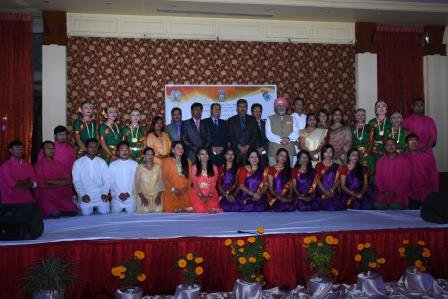 Over the years, India-Nepal cooperation has made major contribution towards human resource development in Nepal.  Presently, Government of India is extending more than 3000 scholarships annually to Nepalese students in a wide spectrum of courses inclusive of Engineering, agriculture, science, arts, veterinary sciences, Micro-biology, bio-technology, Pharmacy, computer science etc. at various levels of under graduate, post graduate and PhD level. 
Nepalese students have been sent for study on scholarship to reputed institutions like NIT,JNU, BHU, Delhi University, Jamia Milia Islamia New Delhi, Osmania University and other central universities.  Around 23,300 candidates have been benefitted from the scholarships/training provided through Embassy of India since 2005-06.  Nepali students are encouraged to take advantage of various schemes of scholarships.
The event marked the 129th Birth Anniversary of the first Education Minister of Independent India and founder of ICCR, Maulana Abdul Kalam Azad. He was posthumously awarded with India's highest civilian award, Bharat Ratna in 1992. 
His birthday is celebrated as National Education Day across India.  As India's Education Minister, Maulana Azad oversaw the establishment of the Indian Institutes of Technology and the foundation of the University Grants Commission, an important institution to supervise and advance higher education in the nation. 
It is through the efforts of eminent people like Maulana Azad that India has been a centre for learning with ever growing number of reputed universities, institutions and colleges.  These centers have been sharing their expertise with the students of friendly countries like Nepal through ICCR and ITEC programs.