The final rites of Prakash Dahal, son of former Prime Minister Pushpa Kamal Dahal, is being performed at the Pashupati Aryaghat in Kathmandu this evening.
Dahal had suffered a sudden cardiac arrest and had breathed his last before reaching the Thapathali-based Norvic International Hospital this morning.
Dahal's body was kept at CPN-Maoist Centre's headquarters at Paris Danda for final tribute, former King Gyanendra Shah, President, Vice-President, UML Chairman KP Sharma Oli, and among other various leaders paid a final tribute.
As per Hindu ritual, Pushpa Kamal Dahal performed the final rites of his son.
Former PM and CPN-Maoist Centre Chairman Pushpa Kamal Dahal today lost his only son of sudden cardiac arrest and elder daughter to cancer three years ago.
Earlier issuing a press statement, the party expressed grief over Dahal's demise. Dahal, who was rushed to Norvic Hospital early morning at 5:00 AM today had passed away due to cardiac arrest.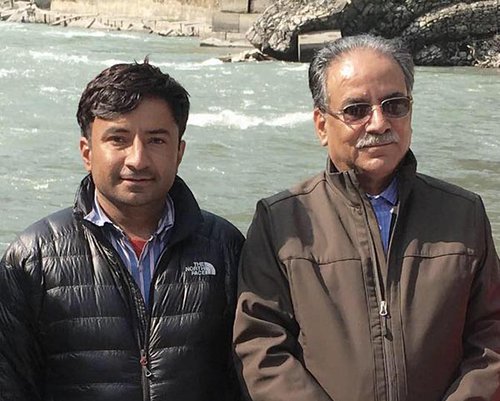 The hospital said that Dahal had died three hours before being brought to the hospital.
Thirty-six-year-old Dahal— private secretary to his father CPN MC chair Dahal and also central member of MC — was rushed to the Thapathali-based Norvic International Hospital at 5:30 am this morning, where he was pronounced dead upon reaching the hospital
Former prime minister Pushpa Kamal Dahal visited Norvic Hospital with his wife Sita Dahal and daughter in law Bina Magar. Dahal arrived from Biratnagar shortening his program and Bina Magar also arrived shortening her campaign in Kanchanpur.