Nepali Congress leader and candidate of Constituency no 4 of Kailai district Sunil Kumar Bhandari said that the present communist alliance was formed a design of internal and external power to destabilize Nepal.
"Along with the foreign backing, the left alliance is possible because of their interest to grab the power in hook and crook," said Bhandari addressing the elections rally in Dhangadhi.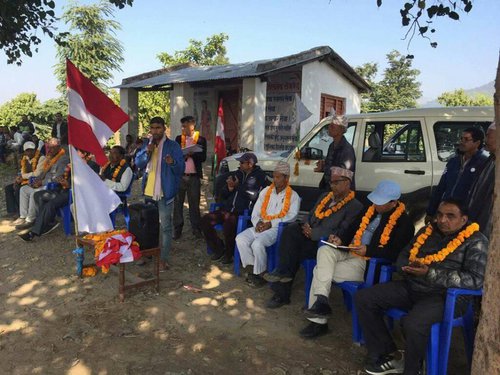 Bhandari said that only one motive of a communist alliance is to destabilize Nepal to fulfill the interest of external power. Bhandari urged voters to vote democratic alliance to defend the country and democracy.
"Left alliance is to intensify conflict and create and anarchy in the country," said Bhandari.
Nepali Congress member for provincial legislature Hira Dutta Bhatta said that this is a very important period in history to defend the democracy and country. Yegya Raj Chaudhary another candidate for provincial legislature also addressed the program.
Chaired by regional president Nepal Teacher Association Bir Bahadur Khatri, Chairman of Kailali Teacher Association president Ganesh Prasad Ojha, former president Giriraj Kadayat and Bhupal Singh Khadka also urged voter to vote for Nepali Congress. Conducted by Karna Kunwar, vice president Rajendra Khadka also highlighted the role of Nepali Congress.