Nepalese ambassador to Thailand Dr. Khaga Nath Adhikari said that there is a good business and investment opportunities as well as the tourism attractions in Nepal.  Addressing a program, he also mentioned about the upcoming business promotion event 'Nepal Chamber Expo 2017' to be held in Kathmandu from 30 November to 4 December 2017 and called upon the interested business entrepreneurs to participated in the event and explore the business opportunities in Nepal. Ambassador Adhikari stated that Thai people were increasingly attracted towards Lumbini and trekking, and encouraged people to visit Nepal.
Organised by the Embassy of Nepal in Bangkok, Maj. Gen. Anan Charoenchasri, Mayor of Pattaya City, Suladda Sarutilavan, Director of Tourism Authority of Thailand (TAT) Pattaya Office Business attended  the program  titled Business Opportunities in Nepal.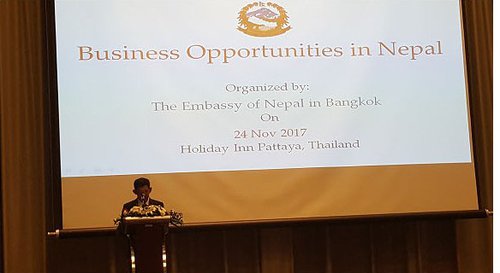 A large number of participants, including business entrepreneurs, travel/tour operators, media persons, prospective tourists and representatives of the Nepalese community in Pattaya participated in the programme.
Welcoming the participants,. Counsellor Mr. Janga Bahadur Gurung made a presentation on 'Business Opportunities in Nepal'. He gave a detailed presentation on various areas on which foreign investors can start business, and also mentioned about the investment friendly legal provisions, strategic geo-political location, various facilities & incentives for investors.
First Secretary Ramesh Kumar Charmakar made a detailed presentation on tourism/trekking opportunities in Nepal. In his presentation, he highlighted tourism attractions and opportunities in Nepal, focusing on three areas: Adventure, Nature and Culture. It may be noted that Thai visitors have been found increasingly interested in trekking in Nepal, and the Embassy has been highlighting this area.
Speaking during the programme, Mayor of Pattaya City, Pol. Maj. Gen. Mr. Anan Charoenchasri highlighted the cordial relationship between Nepal and Thailand, urged Thai business community to promote their businesses in Nepal, and encouraged people to visit Nepal and enjoy the serene beauty.
Suladda Sarutilavan, Director of TAT, addressed the gathering and encouraged Thai nationals to visit Nepal.  Earlier, Sutham Sachabimukh, Public Relations Representatives of Nepal Tourism Board in Bangkok, also spoke about the tourism opportunities in Nepal.
According to a press  release issued by Embassy of Nepal Bangkok, Nepali cultural performances were also presented during the programme. The performances were coordinated by Thai Nepali Association, Pattaya Branch. The programme is believed to have contributed to giving added publicity about Nepal and thereby promoting Nepal's business/investment/tourism.