JICA Nepal office handed over newly constructed Area Police buildings to the Palungtar Area Police Office, Gorkha District amidst an official ceremony.
The new buildings of the Palungtar Area Police Office, located in Palungtar Municipality, Gorkha, were jointly inaugurated by Kamal Singh Bam, Assistant Inspector General of Police, Chief of State-4, Police Office, Pokhara and Kozo Nagami, Senior Representative of JICA Nepal.
According to a press release issued by JICA, the buildings were reconstructed by JICA through its "Project on Rehabilitation and Recovery from Nepal Earthquake". The old buildings of the area police were severely damaged by the 2015 earthquake, therefore the district authorities requested JICA for reconstruction support to which JICA agreed after the on-site survey.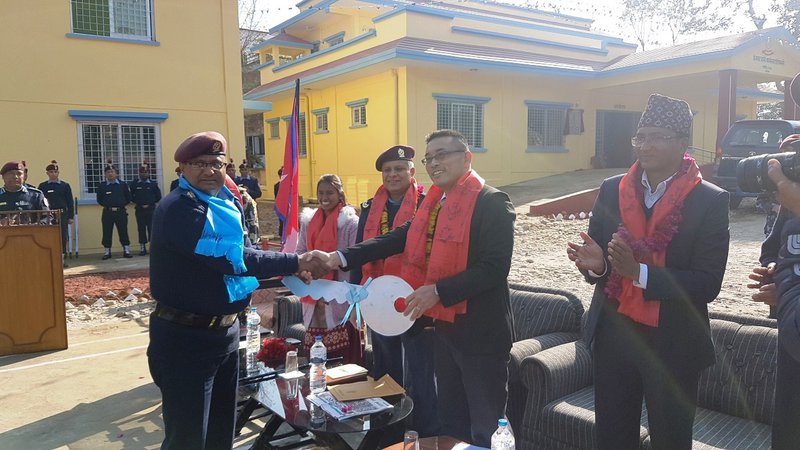 These reconstruction efforts are successful outputs amongst JICA's "Build Back Better" initiatives. The new structures of Palungtar Area Police Office can be utilized for a wide range of police activities in order to maintain peace and stability in the area.
These new structures are well equipped for people with disabilities as well. Altogether there are 3 buildings; 1. Police Office -2 stories consisting of Offices, Investigation, Lock up and Accommodation for Chief. 2. Police Quarters -2 stories comprising of Gents barrack (18 persons), Ladies barrack (6 persons) and junior staff barrack (5 persons). 3. Mess hall with 1 kitchen and a dining room.
The construction work for these structures began in May 2016. This is the eighth project which was completed and handed over among over 20 public facility reconstruction efforts JICA Nepal has been undertaking in Gorkha and Sindhupalchowk districts. These projects to reconstruct earthquake-resilient public facilities are expected to be completed by mid- 2018.