At a time when Nepal has achieved a tremendous success in water and sanitation sector over the last two decades, the challenge is to sustain the progress in the context of the adverse impacts of the climate change.
With the rise of temperature, water sources are depleting and extreme weather is causing heavy floods, damaging infrastructure. According to a recent report, many toilets and drinking water taps were washed away in the last floods in eight districts of southern Nepal, pushing Nepal's target to declare these districts Open Defecation Free (ODF) further.
Despite an unfavorable political and environmental situation, Nepal has made noteworthy progress, including in the WASH Sector. The time has come for Nepal to share its experience and knowledge with the global community, in terms of what it has achieved over the decades.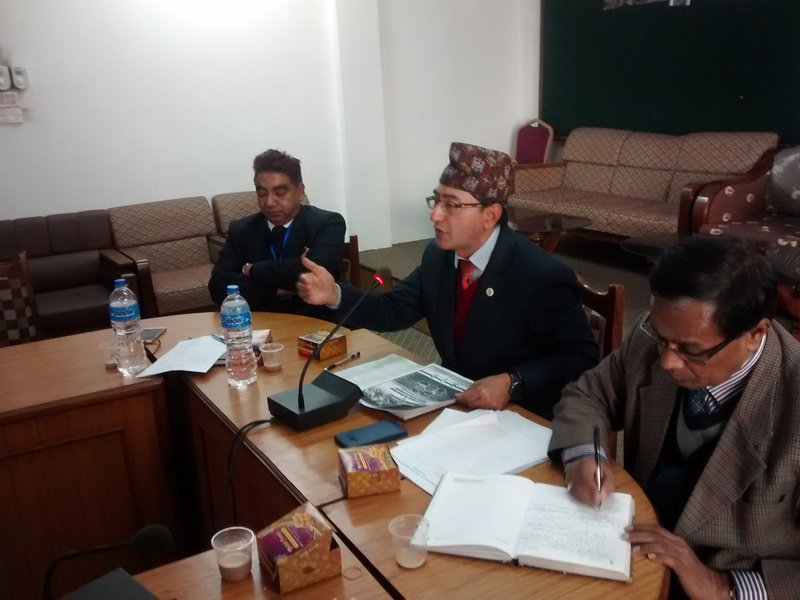 With the aim to share the knowledge on Water, Environment and Climate Change, the Department of Water Supply and Sewerage, Society for Public Health Engineers Nepal and Nepal Engineers Association are jointly organizing an international conference on April 10-12, 2018.
Briefing the media and other stakeholders on the preparation for the event, chairman of the organizing committee Ramdeep Sah said the committee has received over 200 papers, which are now undergoing review. Fifteen experts, including Former Prime Minister of the Republic of Korea, have already confirmed their participation. They will deliver the keynote speech, according to Sah.
Moderated by Kamal Adhikari of the secretariat of the organizing committee, the meeting also discussed the issue of fund collection, future actions and other materials related to the international conference.
Chaired by a member of National Planning Commission, Shrestha, various participants expressed their views on the need to make the conference successful. Supported by NAST, KU, TU, ADB, WaterAid, BMGF and RWSSFBD, the conference, the organizers expect, will draw 500 participants.
Out of Rs. 129, 8031909 estimated budget, Rs. 56, 50,000 budget has been secured. According to organizers, there is a deficit of 7.3 million rupees.
"This is a conference of national pride. This is the reason the department has allocated 2.5 million rupees as seed money. There is the need to have an active involvement of all stakeholders," said Tej Bhatta, Director General of Department of Water Sanitation and Sewerage (DWSS).
"International advisory group of prominent professionals, national advisory group, organizing committee management committee and sub-committees have already been formed for organizing the conference," said Sah. "The conference has the aim to solicit concrete learning experiences on the theory as well as the practice from across the world."
At a time when Nepal is in a critical stage of sustaining the achievement made in water and sanitation sector, the international conference will provide the much-needed experience and knowledge to different stakeholders.