Although the day was cold, people were visibly in a rush to go to the top  of Chandragiri Hill by cable car on 10 January 2018, a government holiday to recall King Prithvi Narayan Shah's birthday. The queue reached almost a kilometer long and people waited quietly till they got into the cable car to relish the fascinating scene.
Developed with the sole purpose of recreation and tourism, Chandragiri, was being promoted by Chandra Dhakal for its Bhaleshwor temple. Lately it has been attached with historical figure King Prithvi Narayan Shah.
There are many attractions at the top of the hill. Children's park, food court, Bhaleshwor temple (Jyotirlinga) and mountain views. The statue of King Prithvi Narayan, among others, is one of the main attractions for visitors. A full figure statue of Prithvi Narayan attracts visitors of all ages and there is a rush to have a photograph with the statue, which stands holding his first finger.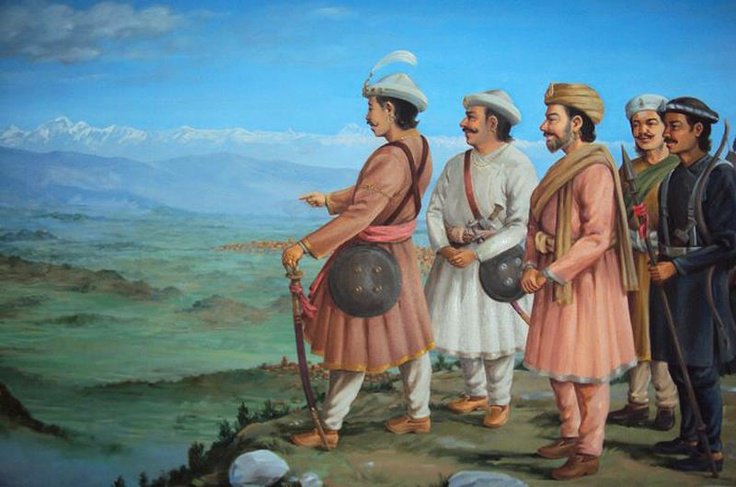 "My vision was to make Chandragiri as a recreational, historical and religious place for people of all walks of life," Chandra Dhakal told New Spotlight. "In such a short distance, one can find a genuine respite from all chaotic life. This is what Chandragiri Cable Car wants to contribute. If this small idea can revive the sense of history of Nepal, it will be my greatest achievement."
With little understanding about his mission, teenagers were lightly passing comments about the slogans used by Shah. Fifteen-year-old Anupama Shrestha laughed saying that this king also used Hindi language. Other young people were commenting on a few other slogans. However, only a few noticed his ever relevant mantra to define Nepal's geo-strategic location as a yam between the two boulders.
Following the suspension of 1990's constitution in 2006, the new Loktantrik rulers pushed nation builder Shah in the dark, canceling the official function dedicated in his name. In the growing political tensions in this part of the world between two giants and a recent regional political development, when the two boulders are squeezing the yam, which is feeling hard to breath for its survival, Shah's relevance has been realized again.
Historical Significance
Chandragiri hill carries historical significance as well. It was from these hills that King Prithvi Narayan Shah caught the first glimpse of a much scenic and prosperous Kathmandu valley, which in fact instilled in the king's mind an idea of annexing the valley into his kingdom. According to folklore written in Chandragiri Cable Car, Prithvi Narayan Shah is believed to have amassed spiritual powers for unification after undergoing a rigorous 'sadhana' or meditation at these very hills.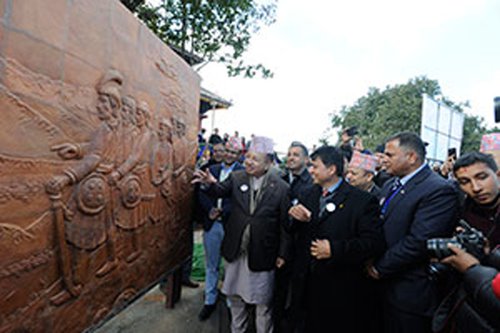 In his Dibya Upadesh, it has been mentioned that King Prithvi Narayan Shah was determined to first annex and then make Kathmandu the capital of unified Nepal. He apparently first saw the valley while on his way back to his kingdom in Gorkha from his in-law's realm in Makwanpur. Astrologers Bhanu Aryal and Kulananda Dhakal who accompanied the king during that trip had made a prediction that their king's wish to take over Kathmandu would definitely come true.
Despite decades of neglect, a banker and industrialist, the place came to life thanks to Chandra Dhakal, whose family comes from Prithvi Narayan Shah's astrologer priest Kulananda Jyotishi Dhakal. The place is now one of the favorite destinations for holiday seekers and mountain lovers.
Kulananda Jyotishi suggested King Prithvi Narayan Shah march for unification of Nepal. Chandra Dhakal constructed the cable car ropeway, which is now reminding all visitors of the period of unification. Dhakal, a soft spoken chairman of IME group, which owns banks, insurance, trading houses and industries, constructed the cable car to make Chandragiri not only commercially viable and profitable but also a location to see the entire mountain range, from Mt. Everest in the east to up to Annapurna range in western Nepal.
Prithvi Narayan Shah mentioned in his Dibya Upadesh about the historically significant moment of Chandragiri Hill, inspired by his two priests, he launched Nepal's unification drive. Prominent historian and Itihas Shiromani (Great Historian) late Baburam Achayra, in his Prithvi Narayan Shahako Sanchipta Itihas (Brief History of Prithvi Narayan Shah), elaborates the role of two priests who encouraged unification of Nepal.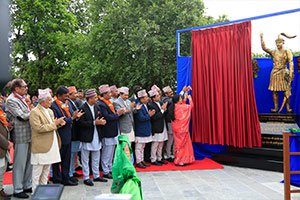 "Companions to me were Bhanu Jyotishi and Kulananda Jyotishi. From Chandragiri's top, 'I asked, which is Nepal? They showed me saying, that is Bhadgaon, that is Patan, and there lies Kathmandu.' The thought came to my heart that if I might be a King of these three cities, why not let it be so. At this time these two astrologers said to me. 'O King your heart is melting with desire.' I was struck with wonder. How did they know my inmost thoughts and so speak to me? At the moment your gaze rested hearts you longed to be King of Nepal, as it seemed to us," Dibya Upadesh by L.F. Stiller, SJ, noted.
Along with other things, the statue is a popular spot for selfy and family photographs of all generations. This is the reason when the government is holiday marked with official programs in Singhadurbar and common people marked their holiday in Chandragiri.
Whether it is just a coincidence, the government revived the national day official ceremony this year just six months after the unveiling of the statue of Prithvi Narayan Shah by President Bidhya Devi Bhandari, with close relatives of Kalu Pande, who led the unification in front of nearest relatives of Priest Dhakal.
In a series of bloody power struggles and political upheavals, the families of those who backed unification of Nepal were scattered all over Nepal. Chandra Dhakal's family left Gorkha and migrated further west and many of Pande's families moved to eastern hills to survive from Thapa's revenge. 
0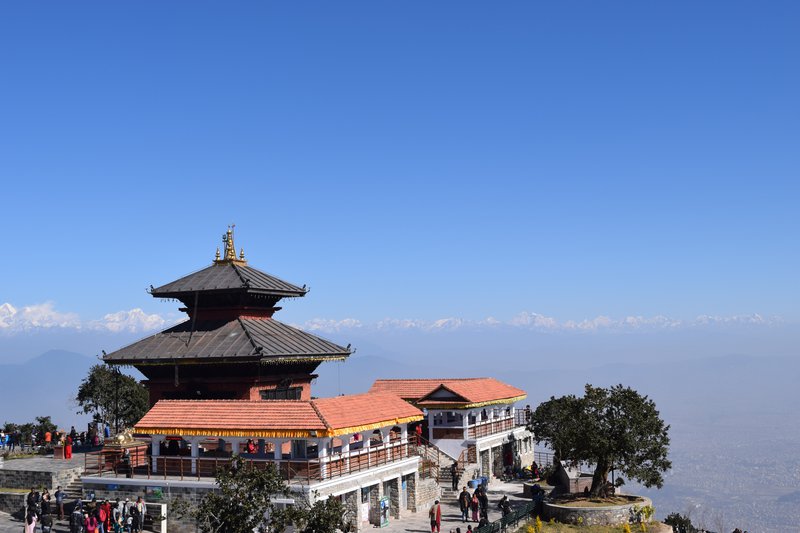 Coincidently, over the two hundred years, family members of the two clans stood together to unveil the statue in a place where unification of present day Nepal was conceived. 
"Each holiday, there is always a huge rush of people. If the weather is clear, it builds pressure on us," said General Manger Shah. "It is very difficult to manage the pressure of visitors, with a capacity of 1000 passengers per hour."
The attractions, along with riding cable car, are Bhaleshwor Temple, View Tower, Café Fountain, Bar, Multipurpose hall, children play ground, branded shop and other. The place is 2521 meters high from the sea level with 2.5 kilometers long cable car.
With a gondola lift transportation system, the 2.4 km (9,095 ft) line has two stations. The cable car system consists of 38 gondolas that can carry 1,000 people per hour.
Nepal's Masada
Five years ago, then Israeli Ambassador to Nepal Hanan Godder, who used to organize gathering in various tops of the hill around Kathmandu inviting diplomats, Nepali officials, politicians and people from different walks of life, hosted a program at Chandragiri. He distributed water color picture of Prithvi Narayan Shah discussing with two of his astrologers about the possibility of conquering Kathmandu valley. 
Ambassador Godder suggested making this strategically historical place accessible for the people to see the entire valley and Himalayas. Although the context of history of a small hill Masada, an ancient fortress in southern Israel's Judean Desert, is different than Chandragiri hill, they share some common things. Masada reminded of the sacrifice and struggle for independence of Jews state and Chandragiri reminded of a long struggle for unification of independent modern Nepal.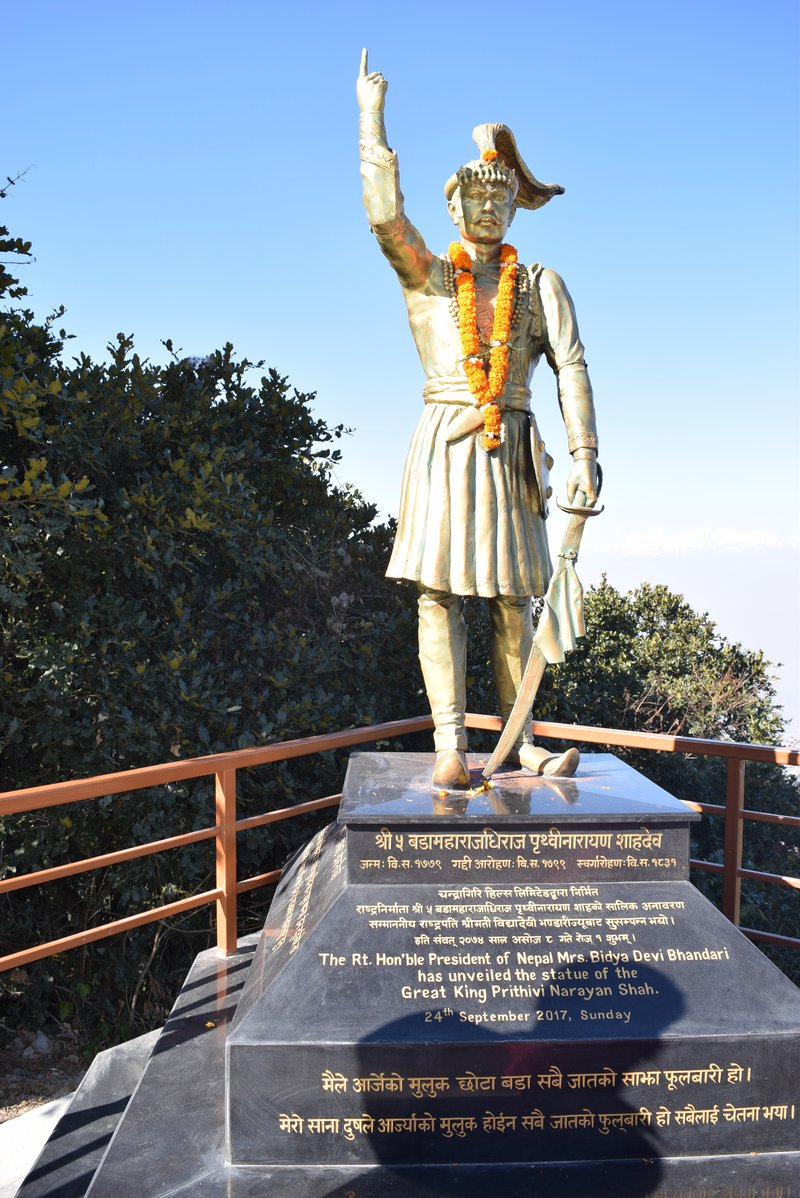 Every tourist who visits Israel, they pay a visit to Masada as the hill involves recreation as well as historical ancient city covering the Judean history. It is linked by cable car as well as trekking route. Masada is on a massive plateau overlooking the Dead Sea. A cable car and a long winding path climb up to the fortifications, built around 30 B.C. Among the ruins are King Herod's Palace, which sprawls over 3 rock terraces, and a Roman-style bathhouse with mosaic floors.
As it is a hill overlooking Himalayas and mountains, it is one of the popular destinations for a large number of people to spend the holiday with their family. Although the cable car opened almost a year ago, the passion of people to travel by ropeway continues.
Luxurious Coach
Chandragiri Cable Car is a gondola lift transportation system which was opened in 2016. The Chandragiri Cable Car runs from Thankot to Chandragiri hills. The 2.4 km (9,095 ft) line has two stations. The cable car system consists of 38 gondolas that can carry 1,000 people per hour.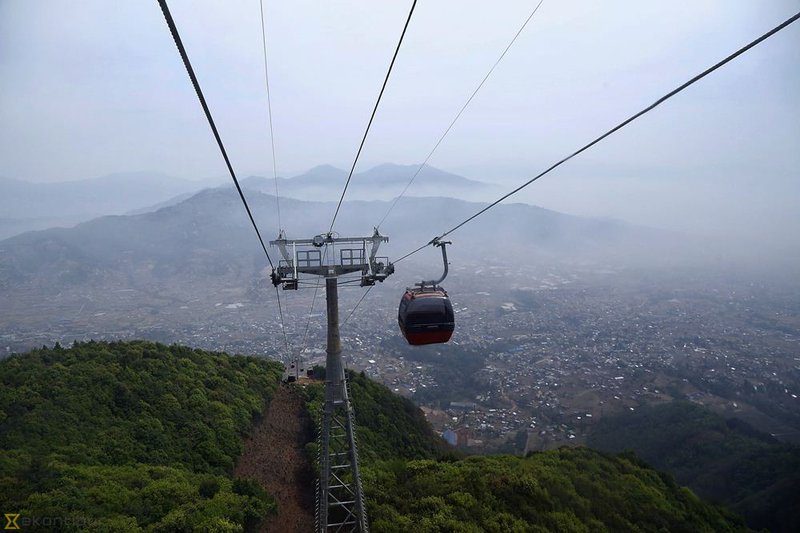 For the holiday seekers, this is the cheapest place to get fresh from chaotic Kathmandu. For the family, it is a good place for outing. Even for young couples, this is quiet place. For adventure tourists, who aspire to see the mountain range, Chandragiri is the best place.