The Charge d'Affaires ad interim of Japan to Nepal, Shinya Machida, signed a grant contract to provide medical equipment to the Laborer Women and Child Welfare Council (LWCWC). The equipment will be installed in the Valley Health Center, located in Bhaktapur District.
The grant contract was signed between the Embassy of Japan and Mrs. Ranju Napit, Chairperson of the Health Center.
The Project for the Installation of Medical Equipment at the Community Health Center in Bhaktapur District is funded under the Grant Assistance for Grassroots Human Security Projects (GGP) of the Japanese Government. The grant assistance amounts to USD 82,514 (approximately NPR 8.5 million).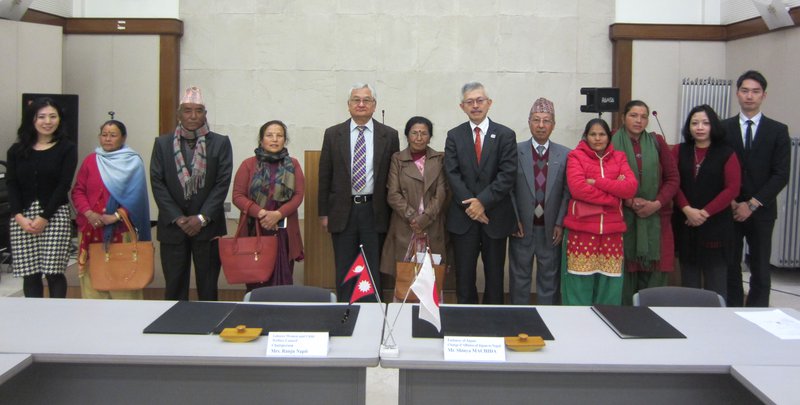 According to a press release issued by Embassy of Japan, the project will support the installation of cutting-edge equipment such as an ECG machine, hematology analyzer, a mobile X-ray machine, ultrasound machine, etc. for use in diagnosis.
The Valley Health Center, located in Byasi (Bhaktapur) has been offering medical services, mainly to women and children, free of charge since its establishment in 2008.
The health center offers free diagnosis, free delivery assistance in rural areas, and basic medicines, and focuses on maternal and child health. In addition, the doctors and nurses of the center regularly visit the surrounding communities to provide counselling and to raise awareness on basic health.
According to a staff member at the center, young women in rural areas still tend to hesitate about going to hospital for diagnosis due to medical costs. "Many people tend to think of going to a hospital only when they are very sick and consider regular check-ups a waste of money", said Mrs. Napit, Chairman of the Valley Health Center.
The medical equipment which will be provided under the grant scheme can assist the center to offer a wider range of services, including accurate check-ups, diagnosis and prenatal care.
The Embassy of Japan hopes that this project will contribute towards enhancing the center's medical services provided to women and children in the suburbs of Kathmandu.