Charge d' Affairse of U.S. Embassy Michael C. Gonzales said that one of the United States' top priorities is improving Nepal's investment climate. "Nepal's economic development depends on attracting a significant amount of investment, both foreign and domestic. Attracting investment requires a conducive environment for investors," said Gonzales.

Delivering opening remarks in a workshop Need for Compensation Law in Nepal organized by U.S. Embassy NUSACCI, Charge d' Affairse Gonzales said that compensation law is one of the important parts to create enabling environment. "A compensation law that makes it easier for contracts to be enforced and disputes between business to be resolved. It is an important step in improving Nepal's Investment Climate," said Gonzales.
Chaired by immediate past President Narendra K. Basnyat, justice of Supreme Court Anil Kumar Sinha said that the court wants to play a conducive role in implementing the laws related to foreign investment. He said that Nepal needs more act like compensation laws to create a conducive environment. "My experiences of practicing as a lawyer and a Justice of Supreme Court shows that dispute settlement is time-consuming in Nepal," said Sinha. 'We need to make a law to provide a legal guarantee to the investors," said Sinha.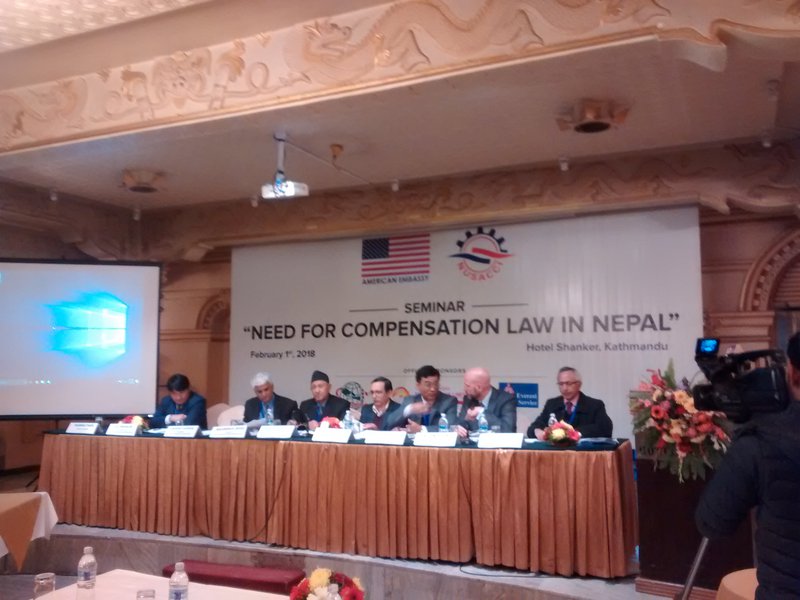 In his opening remark, Kiran Saakh, president of NUSACCI, said that thanked Gandhi Law Associates and its team for preparing a draft concept paper on compensation law. He said that Nepal needs a compensation law to attract the foreign investment in the country.
Chaired by Narendra Basnyat, the second session started with the presentation on a concept paper on Compensation law by former law secretary Raju Man Singh Malla. Joint secretary of Ministry of Law, Justice and Parliamentary Affairs Dilli Raj Regmi, President of Supreme Court Bar Association Shilendra K. Dahal, Prabhakar Adhikary, director, International Lawyer and Consultants and Kevin Burke, Department of Justice, U.S. Embassy highlighted the importance of compensation law to lure the foreign direct investment.