Chief of Army Staff General Rajendra Chhetri distributed the shield, cash and other prizes to the winner of COAS Open Marathon Competition 2074 amid a function. He was Chief Guest of the program was COAS General Rajendra Chhetri.
 COAS General Chhetri handed over cash and shield to Krishna Basnet who secured the first position in 42.195 kilometer Basnet finished the race in 2:22:52 seconds, won a Pulsar Motorbike as well.  Gopi Chandra Parki finished the race in 2:25:37 second and secured the second position. Similarly, Rajan Khatri secured the third completing the race in 2:29:12 seconds.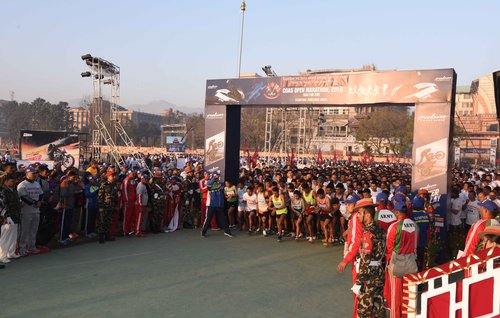 The first, second and the third received cash award of Rs.100.000, Rs.50.000.00 and Rs.25, 000.00. Similarly, chairperson Sainik Shrimati Sangh Rita Chhetri distributed key of the scooter to Bishworupa Budha of Nepal Army as she finished 21 Kilometer women marathon
 The Competition included marathon, half marathon, 10 KM Race,  and 5 kilometer race for students of various schools,5 KM walkathon for Nepal Army, Nepal Police, Armed Police, Government employees and diplomats.
 It was concluded with a slogan of united we stand come stand with us, it was a fun for run.