Newly appointed Prime Minister KP Sharma Oli sworn in as the 41 prime minister of the country. President Bidya Devi Bhandari administered an oath of office and secrecy to Oli at Sheetal Niwas amidst special program.

Oli also appointed Lal Babu Pandit and Tham Maya Thapa as ministers. 
However, Maoist Center announced that they will not join the government before the completion of unification of the party.
KP Sharma Oli, chairperson of CPN-UML and a common candidate of the Left Alliance has been appointed as the country's 41 prime ministers.
President Bidhya Devi Bhandari appointed Oli as the prime minister under Clause 76 (2).
Oli, who spent 14 years in jail for opposing the now-abolished monarchy in the 1970s and 1980s, was named prime minister hours after Sher Bahadur Deuba, whose party suffered a landslide defeat in the polls, resigned.
Oli was also prime minister from 2015 to 2016, soon after the nation's current constitution was formalized.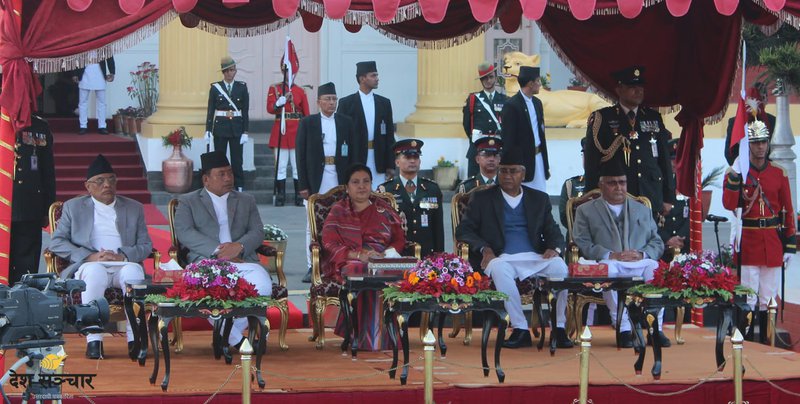 The two Asian giants have poured aid and investment to woo Nepal, home to Mount Everest, as a geopolitical ally.
Nepal held parliamentary elections in November and December but the formation of the new government had been delayed because the Election Commission declined to declare the final results until the election of the upper house of parliament, which was held last week.
Oli has said he will promote peace, stability and development in one of the world's poorest countries where revolving-door coalitions have sapped business confidence, curbed growth, spurred corruption and slowed reconstruction after a 2015 earthquake that killed 9,000 people.
The new government will be faced with an economy plagued by dwindling exports, manufacturing and remittances.
Party officials said Maoist chief Prachanda will take over from Oli as prime minister before his five year term expired under a power sharing deal.