The ruling coalition partners, CPN-UML and CPN Maoist Centre, have finally reached an agreement on unification of the two parties and signed a seven-point agreement on the modality of the unification.

As per the agreement, the new party will be named Communist Party of Nepal (CPN The agreement further states that Marxism-Leninism will be the guiding principle of the party.
UML Chairman and Prime Minister (PM) KP Sharma Oli, Jhala Nath Khanal, Madhav Kumar Nepal, Bam Dev Gautam and Ishwor Pokharel have signed the agreement on behalf of UML whereas Maoist Chairman Pushpa Kamal Dahal, senior leaders Narayan Kaji Shrestha and Ram Bahadur Thapa have signed the agreement on behalf of the Maoist Centre.
The agreement has been signed on a conclusion of the Party Unification Coordination Committee meeting held at Baluwatar this evening. Chairmen of both the parties had held several rounds of one-on-one talks prior to this agreement.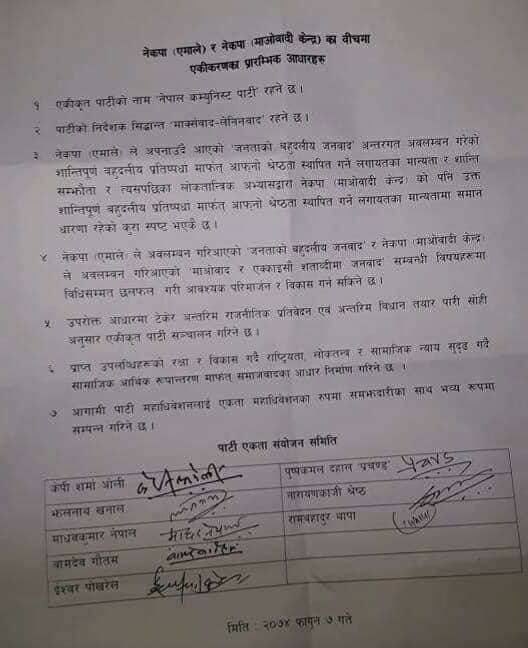 As per the agreement, People's Multiparty Democracy ('Janata ko Bahudaliya Janawawd' popularly known as Ja-Ba-Ja as propagated by later UML leader Madan Bhandari) and Maoism will be deliberated upon as the ideological lines of the party at the general convention of the unified party.
According to The Himalayan Time, it is expected that  KP Sharma Oli and Pushpa Kamal Dahal will co-chair the party in a bi-chairman system until the general convention and that both will take turns in leading the government.
Likewise, there have been talks of major party units to be vertically merged including the committee members.