Japanese ambassador to Nepal Masashi Ogawa signed a grant contract to reconstruct Sarswati Peace School, located in Arughat Rural Municipality, Gorkha District.
The agreement was signed between the Embassy of Japan and Subhash Ghimire, Chairperson of Sarswati Foundation, a Nepalese NGO and Editor of Republica, a English daily of Nepal. 
The Project for the Reconstruction of Classrooms of Sarswati Peace School in Gorkha District is funded under the Grant Assistance for Grassroots Human Security Projects (GGP) of the Government of Japan. The grant assistance amounts to USD 90,027 (approximately NPR 9.3 million).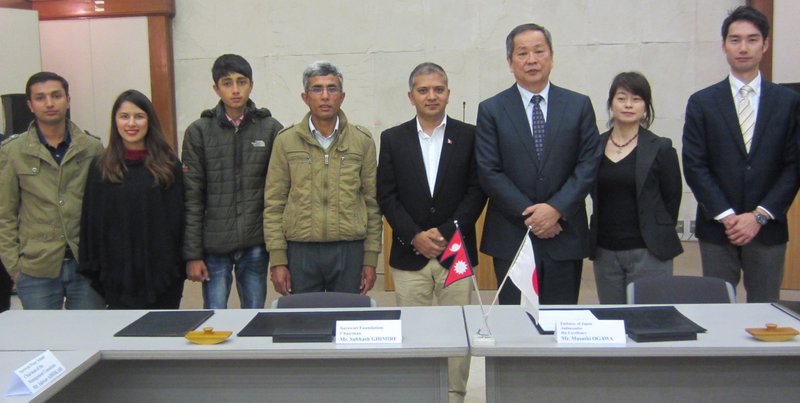 The grant will support the reconstruction of a two-story school building with eight classrooms. The building to be constructed by the fund is one of four structures that had been severely affected by the earthquake that occurred in 2015.
Sarswati Peace School is a community school that has been providing education to 117 students of kindergarten pupil and 1-6 grades since its establishment in 2011. After the earthquake, four structures were severely damaged, thus community and Sarswati Foundation collaborated to gather the funds, and reconstructed one school building and build a prefabricated school building. The new reconstruction will add more spaces for the students who are currently studying in very limited spaces.
"The Embassy of Japan believes this project will contribute towards 'Build Back Better' and will provide better educational opportunities to students for a brighter future. The Embassy also believes the project can further enhance the bilateral relationship between Japan and Nepal," said a press release issued by Embassy of Japan.