Almost three months after the elections results, newly elected members of the Federal Parliament administered the oath of office. Federal Parliament Secretariat had made all necessary preparations for the oath-taking ceremony.
Lawmakers, who were elected in the election of Federal Parliament have been administered the oath on Sunday afternoon.
The ceremony held at the New Baneshwar-based Birendra International Conference Centre (BICC), the senior elected member Mahantha Thakur from RJPN administered the oath to 273 MPs representing various parties.
Resham Chaudhary from RJPN, who is accused of Tikapur incident and is currently in police custody, did not attend the ceremony.
President Bidya Devi Bhandari on February 19 had summoned the first ever meeting of the Federal Parliament on March 5 as per Article 3 (1) of the constitution.
The Federal Parliament constitute of 275 members, directly elected and those elected on basis of proportional representation system.
Earlier, President Bidya Devi Bhandari administered the oath of office and secrecy to a senior-most member of House of Representatives and National Assembly, Mahantha Thakur and Tara Devi Bhatta respectively.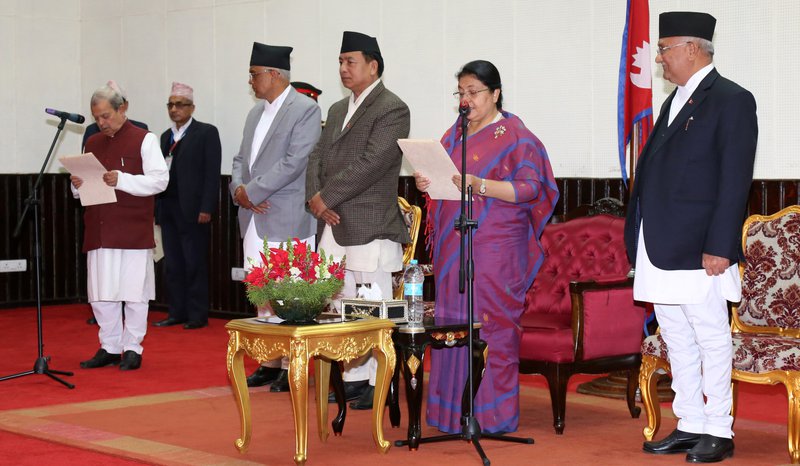 At a program organized at the Office of the President, Sheetal Niwas, Thakur took the oath of office and secrecy in Maithali language while Bhatta in the Nepali language. Thakur is now 75 years and Bhatat is 69 years.
Present on the occasion were Vice-President Nanda Bahadur Pun, Prime Minister KP Sharma Oli, Chief Justice Gopal Prasad Parajuli, ministers, Chiefs of Constitutional Bodies and Security bodies